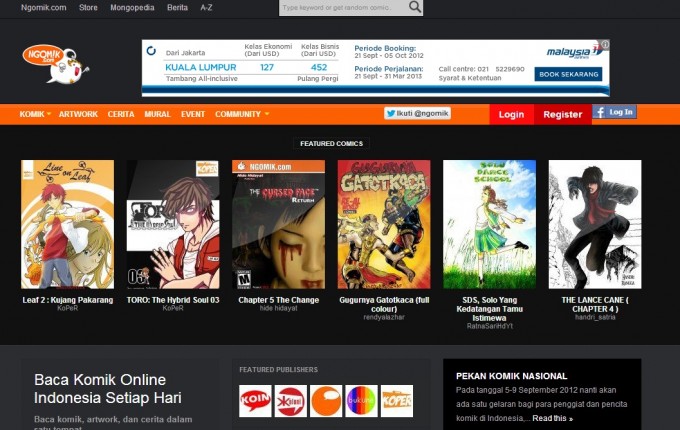 Ngomik.com is one of the few Indonesian startups to focus on the low-end feature phone industry, and the company is making some cash from it too. We caught up with Muhammad Subair from Ngomik to find out more on the startup's progress since we spoke last year about its digital comic publishing business.
Subair shared a few of Ngomik's key statistics so far:
Ngomik's user numbers increased ten-fold compared to last year; it now has 53,220 registered users with an average age of 15 to 35 years old from all over Indonesia. You can see the user demographics here.
There are 2,919 comic artists on the site with a total of 8,082 comics published.
There are more than 3 million page views every month with 45 thousand unique visitors.
Ngomik is a profitable business. Besides working together with telco operator Telkomsel, Ngomik has also partnered up with XL and 3, enabling its users more telco alternatives to pay for premium comics. Subair said that working with the telco operators has been very nice for them so far as more than 75 percent of the comic purchases are done via phone credit.
That is more proof that working with telcos seems like a must when you want to monetize the feature phone market. The comic publisher is also working with online payment system Unik.co.id and Indomog.
Ngomik is now focusing on enhancing the comic content quality and creating more online campaigns. In May, Ngomik worked together with Telkomsel's Simpati by creating an online comic contest, where the comics must have Simpati ads in them. The comic publisher is also planning to make some changes on its website, like adding a new interface, personal themed domains, comic reader widgets, and advanced search filtering.