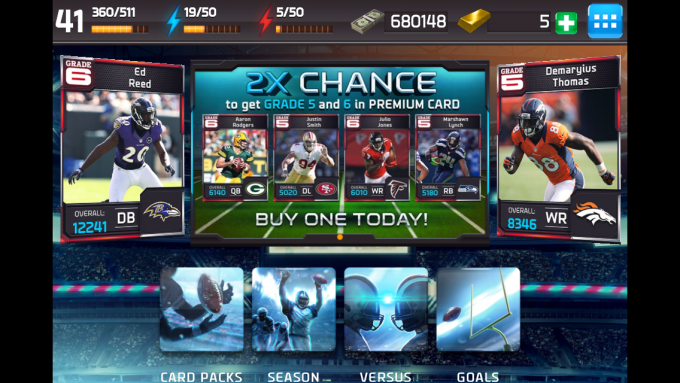 Today GREE (TYO:3632) announced that it is officially releasing its NFL-branded card battle game for iPhone, called NFL Shuffle. Of course, regular readers of this blog may recall that the game was actually soft launched back around Christmas time, at which point I gave it a test run and gave my impressions. I'm a big NFL fan, so I enjoyed it — but there were more than a few bugs, as I noted at the time.
But it was, after all an early release, so it's to be expected that there might be some wrinkles to iron out. So now that GREE is 'officially' releasing this one, one would think that all the bugs are fixed, yes? Regrettably not. Update: A subsequent update seems to have fixed most of the issues. Great to see them finally on top of this!
The tasks listed in the 'goals' section still aren't all functional, notably 'Message a friend' and 'Win in overtime.' Thankfully, the mentoring function has been fixed since I originally looked at the game, so the issues above are only minor annoyances.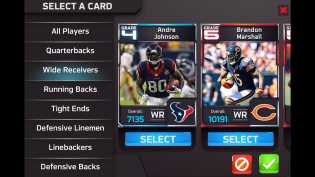 In addition to those, however, any NFL fan will probably find that the range of cards doesn't appear to be as wide as you might expect. I mean, there's only so many time that you can draw chunky Jets linebacker Mike DeVito when you have your hopes on a Adrian Peterson or RGIII… The level of difficulty is unusual too, as the game start out easy as pie, but when you graduate to veteran, winning is the later stages is suddenly impossible unless you shell out for gold to buy premium cards (which I guess is the business model).
In any case, I should say that it's not a bad game overall. But I'm disappointed that the minor issues were not fixed before this 'official' release, because otherwise I think the game has a lot of potential. Football fans could also try out DeNA's recently released NFL Matchups, which looks to be almost the same game, although I have yet to try it out yet.
And if the card battle games don't cut it for you, there's always that little thing called the Superbowl coming up soon (Prediction: Niners 34 – Ravens 31).