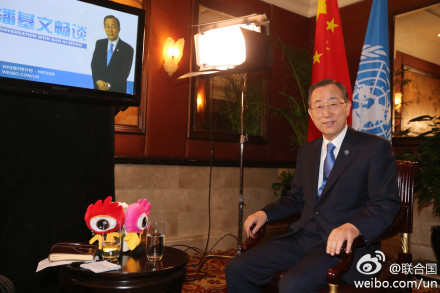 Earlier this week, UN secretary-general Ban Ki-moon was honored by Sina Weibo, China's biggest Twitter-like site, for his social engagement with Chinese netizens. The annual award ceremony saw Ban given a 'Sina Weibo Award for Special Merit', particularly for his global dialogue with young people on important issues. In a video address at the awards, Ban said:
We need governments, non-governmental organizations and concerned citizens to speak out about global problems – and work together for solutions. Social media networks like Sina Weibo are helping individuals to raise their voices.
Well, it's not always encouraging that.
The UN's official Sina Weibo page posted the above image, showing the secretary-general with the social network's mascot. And a hat-tip to CNN's Kristie Lu Stout (@klustout) for spotting this.