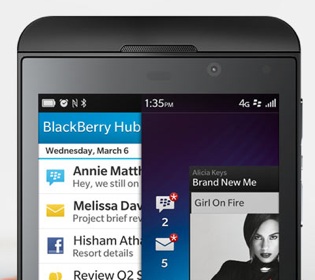 BlackBerry has just put a price-tag on its brand-new BlackBerry Z10 in India, where it'll cost Rs 43,490 (US$800) in an unlocked state. That's close to $100 more than many Indian gadget fans seem to have been expecting, so the figure is being met with some surprise.
The BlackBerry Z10 runs the all-new BB10 OS and is a crucial device for the survival of the company formerly known as RIM. It's expected to hit stores across India on Thursday or Friday.
In contrast to the Z10's price, the iPhone 5 is a fraction more expensive, at Rs 45,500. But, more troublingly for BlackBerry, Samsung's huge – and hugely popular – Samsung Galaxy SIII is a lot cheaper at just Rs 29,480 ($544) at its newly-discounted price-point. Samsung sold 38.8 of smartphones in India in Q4 2012, says The Times of India, in contrast to BlackBerry's six percent stake in that sector.
The next-gen Samsung Galaxy S4 (or "SIV" if they unwisely continue with roman numerals) will be unveiled in mid-March.