UPDATE (June 27, 17:41): Well, things are certainly taking a turn for the weird. The New York Times Weibo account now appears to be back again. No explanation of the downtime has been posted yet.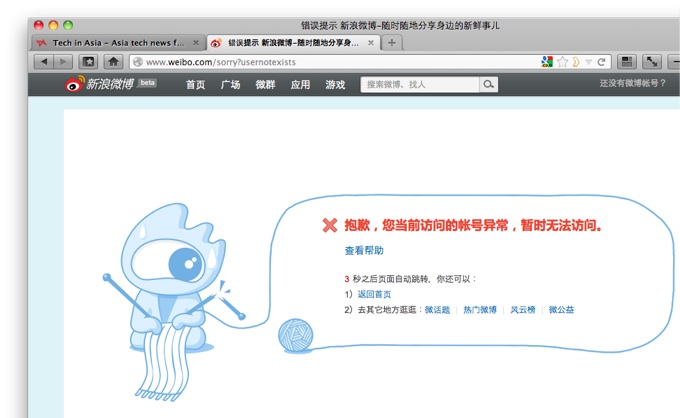 Remember how we reported on the New York Times having joined Sina Weibo, China's Twitter-like social network, yesterday? Well, the New York Times' Weibo has been suspended already, less than 24 hours after its launch, with no clear reason for this having happened. (See the banished account here). As for the brand-new NYT Chinese edition of its news site, which went online this morning, that's still unblocked and working fine in China (pictured below) – albeit quite slowly, since it has overseas servers, not ones based in mainland China.
Sina Weibo often suspends accounts that post politically sensitive material. It's possible that it posted several sensitive terms on its Weibo page in the course of linking to posts on its new NYT Chinese site. The apparent unilateral suspension of the New York Times' Weibo makes a mockery of Sina's "user contract" that was recently implemented which deducts points from its microblog users for infractions like spreading gossip or mentioning lots of hot-button words. Under that system, the NYT should've had a secret points tally which would have dwindled down to the point that the user got an alert that its credibility – so to speak – was running low after a number of offenses.
Of course, Sina's (NASDAQ:SINA) hand is being forced in all this by oft-issued media directives from authorities on words and issues that it wants avoided – and eradicated – from the web. Especially from social networks where real-time sharing spreads information so quickly.
Only a few hours earlier, the New York Times 'Media Decoder' blog lauded the launch of the NYT Chinese edition of its site, which is targeting China's "educated, affluent, global citizens." Sina Weibo has many such users too – but the NYT seems to have been halted from engaging with them on social media.
We'll update if there are further developments, and will watch closely the NYT Chinese site to see if it gets blocked.