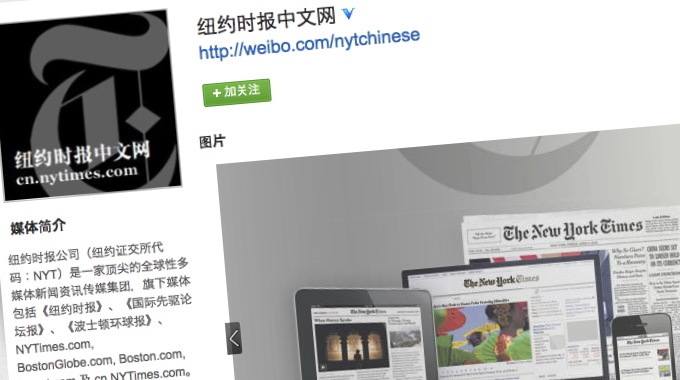 The New York Times, the august newspaper turned digital media company, is venturing onto thin ice brave new territory tomorrow with the launch of the Chinese version of its website. It'll be online at cn.nytimes.com [UPDATED below], which is currently blank and inaccessible behind a login. To mark the event, the New York Times has just joined Sina Weibo, China's hottest Twitter-esque site, with the official account pictured above.
So far, the NYT's Weibo – the page is here – has posted three things, all in Chinese, and one of which is the official announcement of what's coming:
The New York Times Chinese Edition begins operation today, and tomorrow will begin releasing news. We welcome our new friends and followers and look forward to engaging with you.
So far it has just over 3,300 fans after only a few hours in action. It's not clear what cn.nytimes.com will hold – translations of selected articles from the main edition, or original material written in Chinese? And what of its legal status as a media company in China, with all the self-censorship that that would entail? We've reached out to the New York Times' correspondent in China, and to HQ in New York, and will update if we get more information.
Other major news portals have Chinese editions, such as the long-running BBC Chinese, whose website is blocked in the country. But both cn.WSJ.com and the Financial Times in Chinese remain accessible – and it seems to be a digital market that the NYT wants a part of.
[UPDATE 17 hours after publishing: And it has launched this morning, Asia time, to Chinese readers at cn.nytimes.com with what looks like a mix of translated – the moustachioed moralizer Thomas Friedman in Chinese? Oh, the world is so flat! – and original content that is all free. Well, free for now. Here's a screenshot]: