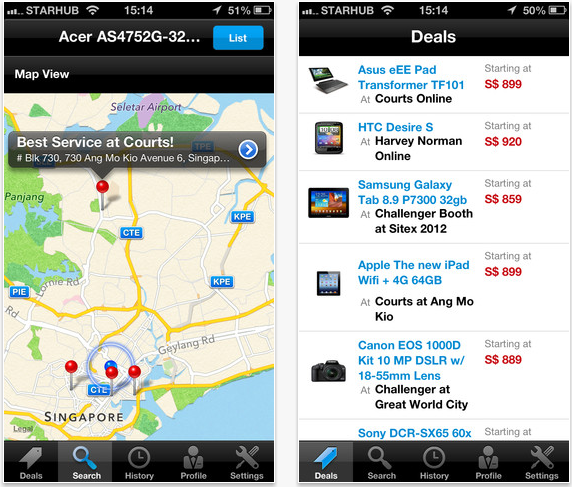 PricePinz is a free price comparison iPhone app that launched recently. Developed by a Singapore-based company, it joins a growing number of apps like Save22 (formerly LobangClub) eBay's RedLaser, Amazon's PriceCheck, and ShopSavvy, among others.
Since its debut a few days ago, PricePinz has been downloaded over 100 times. It currently offers over 4,000 items in its pricing database — the information is gathered mostly from merchants and in-house data entry.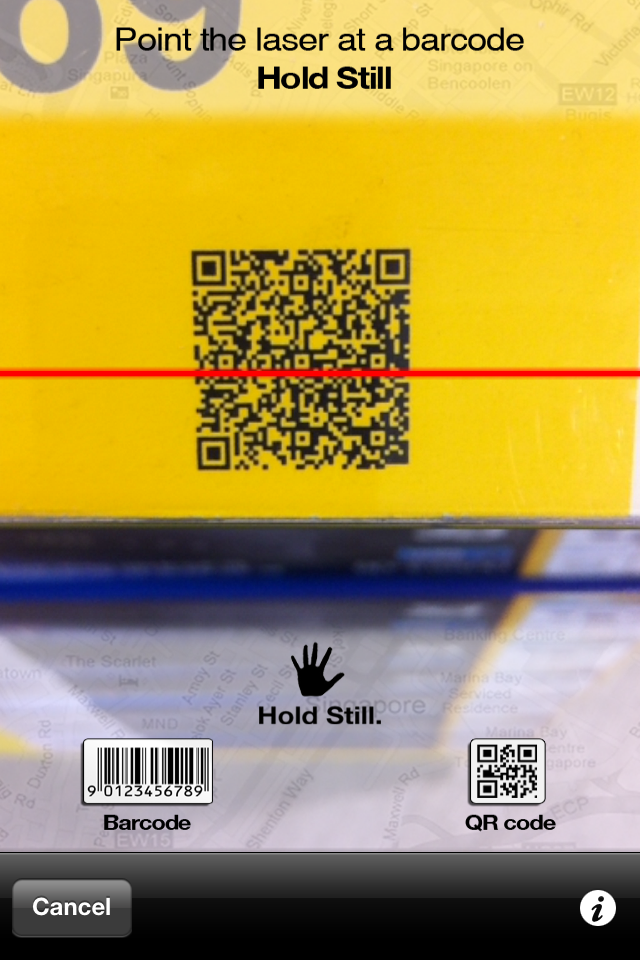 PricePinz boasts support for both barcode and QR Code scanning, and provides a list of deals available in the vicinity of the user. It leverages social network to allow users to help promote their favorite deal and rate or rank a retailers' offering based on criteria like customer support, freebies, and after sales service.
Unlike its more established competitors, PricePinz doesn't have voice and picture-based inputs. Neither does it allow users to order directly with a 'Buy Now' button. However, in a random test at a Courts furniture store in Singapore (right), I find its barcode scanner to be one of the fastest and easiest to use among existing price shopping comparison apps.
Read: Six price scanning apps compared: Save22, PricePinz, PriceCheck, Redlaser, Shopsavvy, Google Shopper
How it started
Karim Harmouche and Kevin Straszburger first met while playing football in Singapore. Little did they know that two years later they would team up with Tony Boatmanand create PricePinz.
The idea first came to Karim when he was buying a gift for his brother in Lebanon. His bad shopping experience sparked the thought that he could develop an app that leverages on the growing base of smartphone subscribers to improve the situation. The end-result is a SOLOMO (social, mobile and location based) app is all the rage ever since it was popularized by KPCB.
So using Ruby on Rails and a virtual team of developers, the founders chose to concentrate first on the electronics category with future plans of branching out to cover other goods like apparel, cosmetics and groceries.
Their goal is to be the installed in at least 33% of smartphones in Southeast Asia with a product base of no less than 20,000 products. In their pursuit to be the numero uno shopping tool in Southeast Asia, they are already in touch with some big retailers in Malaysia with plans of operating eventually in all of Southeast Asia.
Future hopes
Most of the improvements to PricePinz will come from its user base. Kevin makes it a point to monitor its Twitter, Facebook and Tumblr accounts to source for product innovation ideas.
As a newcomer in the field, it doesn't yet have the larger user base to drive crowd-sourced product additions. PricePinz instead concentrates on signing up retailers and getting their products to be auto-submitted via an API, which the merchants can use to connect to PricePinz's servers and upload current pricing and inventory information.
It also conducts regular polling, where PricePinz will connect to the merchants database and seek an update of pricing and inventory items.
According the the founders, these methods of data retrieval provide reliable information as it comes straight from the retailers. Karim believes that "resellers have incentives for the information to be accurate".
A massive product database would be combined with the user community's feedback to enable resellers to compete not only on price, but also on service and reputation.
PricePrinz should try crowdfunding
While crowdfunding has become a popular way for startups in the US to raise money, it hasn't taken off among entrepreneurs here (FIETT and Innova Technology are exceptions). Admittedly, crowdsourced funding is something of a novelty in Asia, but a creative approach could cause a paradigm shift. Perhaps PricePinz can do something on Kickstarter, but they'll need to enlist the help of a US resident to launch a campaign.
Beyond money, getting crowdsourced funding, not only from consumer but also retailers, accomplishes other goals as well: It creates a broad base of supporters and early adopters who would not only provide product listings but also industry insight and expertise. Investors, which could include retailers, would then have a vested interest to see PricePinz succeed.
On their part, retailers, investors, and early adoptors would immediately enjoy seeing their products made available on a popular mobile platform without having to do it themselves—avoiding the costly mobile app development, hosting and system administration that goes along with a mobile product strategy.