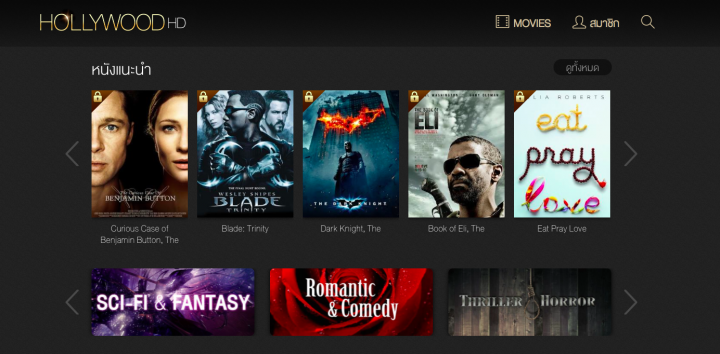 First launched in March 2014, Hollywood HD is an online movie streaming platform available only in Thailand. It's made by the same team as Ploenjit Media Company Limited, which developed the AIS Mobile British Premier League app.
When talking about movie streaming, the first name many people think of is Netflix (NASDAQ: NFLX). In the US, Netflix account for almost half of the country's downstream internet traffic. However, because of licensing limitations, the platform is not available worldwide. That leaves space for both big and small players to enter each individual local market that Netflix hasn't entered yet. There's HBO GO in the Phillipines, a Line spin off for family movie steaming in Japan, or the three local services in Indonesia that we've talked about before. In Thailand, several brands provide similar services, including Watchever by Thai telco Dtac and the newly launched Hollywood Movie HD.
Thailand's piracy issue
Piracy issues are still big in Thailand. Hollywood Movie HD has learned from the music and gaming industries on how to deal with this.
We see the future of the movie industry to be similar to the music and gaming industry mentioned previously. We believe that convenience, accessibility, and affordability is our winning strategy.
(See: In new web clampdown in Thailand, lots of porn, piracy, and gambling sites blocked) 
Back in the early 2000s, the music industry faced massive piracy issues with the rise of Napster and Kazaa. Despite lawsuits and efforts to curb online piracy, users still shared and pirated music. It wasn't until music distribution became convenient, easily accessible, and affordable through iTunes, Spotify, YouTube, and the like could music piracy be controlled.
The gaming industry also faces a similar problem. In Thailand, it was much easier to find pirated DVD games than legal ones back in the 2000s. Since then, the gaming industry evolved tremendously with the invention of in-app purchases, as we now see in casual gaming titles like Farmville, Angry Birds, and Plants vs Zombies.
The startup believes that giving the users instant access to Blockbuster Hollywood movies at HD quality at affordable prices is the key to success.
The learning curve
Hollywood HD has gone through a few ups and downs before it launched its latest app in Thailand. With experience from the Premiere League app, it aspired to create a TV service that combines movies, sports, animation, music, and news together. However, the company faced obstacles and was forced to pivot. Kasidit Kolasastraseni, managing director of Ploenjit Media Company Limited, told Tech in Asia:
The challenges we faced was that content acquisition, content operation, and user experience were vastly different across the genres. With that in mind, we chose to refocus on movies only, gathering the best possible Blockbuster movies and classics directly from the major studios in LA.
Competing with the grey market
Modeled after Netflix, Hollywood Movie HD prices start at 149 Baht (US$5) per month, which allows users to watch an unlimited numbers of movies. The company claims that this is a better deal than the grey market.
The price is cheaper than buying two pirated DVDs on the street. The movie can be watched immediately as opposed to Bittorrent. It's also higher quality and more reliable than streaming websites.
(See: Indian TV shopping and ecommerce site Homeshop18 files for US IPO)
Great response
Hollywood Movie HD currently has more than 100,000 downloads and more than 40,000 users since it launched on March 1. According to the company, it has also risen to a prominent position on Thailand's iOS App Store, ranking number one in the entertainment category for both iPhone and iPad, and it sits in the top ten across all categories.
We expect to have 1,000,000 subscribers by the the end of our operating year in February 2015.
Although the movie selection is not too big right now – around 300 titles – the company expects to offer over 1,000 titles later in the year.
Hollywood Movie HD is available on iOS, Android, and via its website.