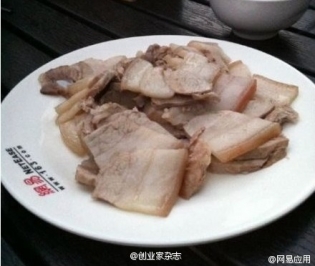 We've seen Chinese internet companies expand in all kinds of weird directions recently (see: 360Buy), but this one is definitely the weirdest. Netease, a senior marketing manager has confirmed, is going into pork production.
When an image of "Netease pork" began spreading on Weibo, the Southern Daily got in touch with Lin Huasong, a senior marketing manager at Netease, who (incredibly) confirmed that it's true. Netease really is working on pork. However, he said, the pork pictured isn't exactly the real thing.
The pork pictured on Weibo is Netease's, but the true Netease pork will have some differences […] Netease's pig farm is still under construction, but we have already begun the raising of pigs in other locations that will eventually be moved onto the Netease pig farm.
But if you're rushing out to pick up some Netease pork for dinner tonight, put the brakes on, because Lin says the real thing won't be available for "at least a year" when Netease has the second generation of pigs being raised on its own farm. As for the weibo photo, it comes from an internal beta test of sorts conducted by the Netease food committee, which had previously been responsible for the food in Netease's cafeterias.
Lin assured reporters that the response to this first round of testing was good, and that the feedback the first Netease pork received was quite positive. So when this whole internet fad thing finally burns out, it looks like Netease is going to have a solid fallback plan. The portal site may fall out of favor someday in China, but pork is never going out of style.
[Southern Daily via Sina Tech]