E-commerce is exploding all over Asia, and even smaller countries like Nepal have been catching the e-commerce bug. In fact, Kathmandu denizens can do something that I can't even do at my home in the US: get super-fresh groceries delivered directly to their door. Oh, and did I mention the delivery is free?
MetroTarkari is a Kathmandu-based e-grocery that has been around for almost a year now. Founded by 28-year-old Anil Basnet, the startup has reportedly grown to six employees and now has more than 500 registered customers. That may not seem like much for a city of 700,000, but it's not bad for a mostly-English site in a market sector that, for many people in Kathmandu, is totally new.
That being the case, MetroTarkari has to offer some pretty significant selling points to convince people to make the switch to buying online, and that's where the afore-mentioned free delivery comes in. The company also claims its products are fresher because it doesn't keep inventory; rather it sources each day's groceries directly from suppliers each day. It's an approach that ensures customers are getting the absolute freshest meats and veggies. It might also be a bit difficult to scale, but for now, MetroTarkari's main battle seems to be getting people used to and comfortable with the idea of buying their groceries online.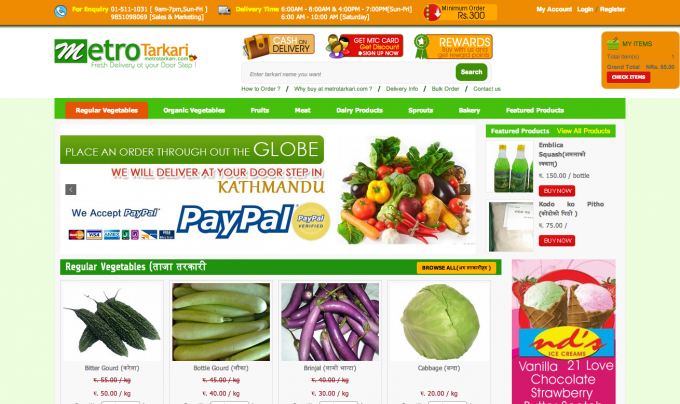 The site's a little rough around the edges — to be expected for a company that's trying to run a full grocery site for an entire city with only six employees — but it has a fairly wide range of offerings including some delicious-looking cakes. It's quite easy to use for me, but oddly it may not be for many people in its target market as the site is mostly in English with only a bit of Nepali used to identify the foods. It's hard to imagine the site would be usable for someone who hadn't had at least some English education, but then again, MetroTarkari will likely have to target the educated, techie market to get a foothold first anyway.
All in all, it's a cool startup and definitely one to keep an eye on. If the company can continue to grow as it has so far, in a few years it should be serving at least a few thousand customers and something tells me that its expansion could move even faster as Nepali consumers increasingly embrace the idea of e-commerce.
(h/t to Khabar South Asia)