Aditya Bikram Karki is a startup and tech enthusiast. He runs a travel blog and service called Gorgeous Nepal, and is on Twitter as @adityakong.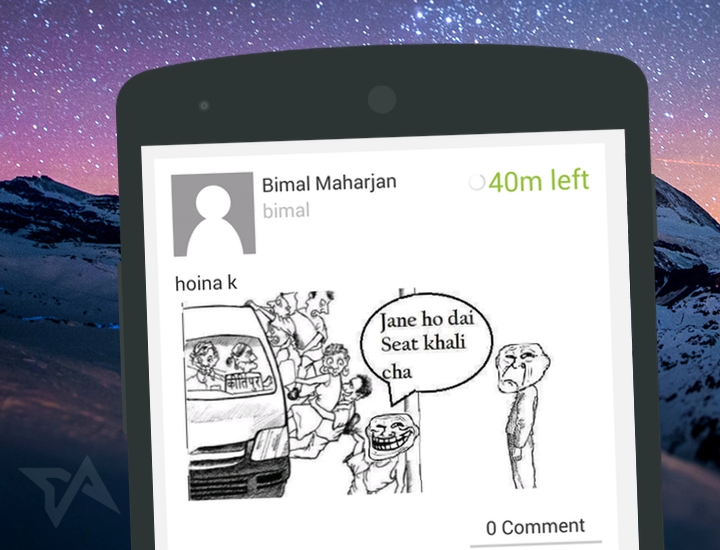 There's been a lot of buzz lately about erasable social media. Snapchat is taking the lead, and apps from around the world have drawn inspiration from it, such as BeeTalk from Thailand and Candidly from India. Now a startup in Nepal is looking to push the model forward with the launch of 11Beep.
11Beep launches into private beta today with an app for Android. It's a mobile-only social network that doesn't keep your digital history. Its tagline is "Freedom of expression", so you don't have to worry about anything you post. That could be useful in a country that's still quite new to online social media.
The 11Beep app is quite basic right now, but it clearly has elements of Google+ or the Facebook Timeline. New users can search for friends to add within the app from Twitter, Facebook, Viber, WhatsApp, or a Google account.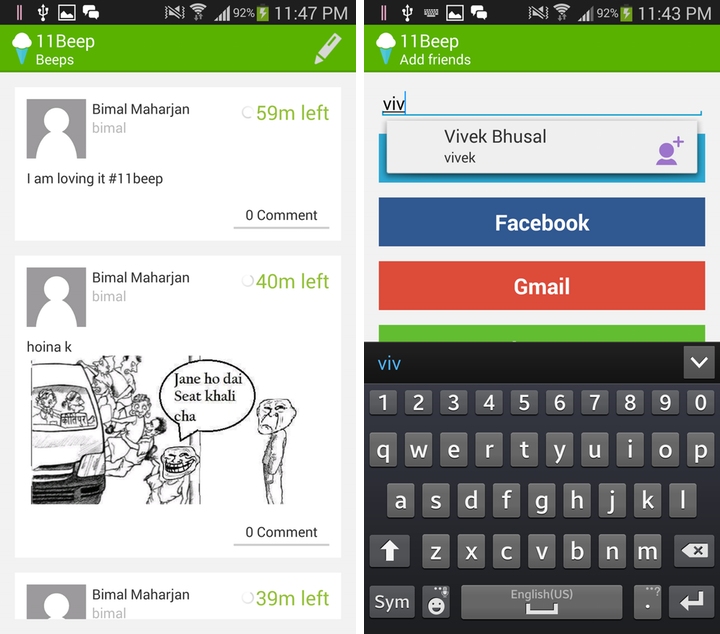 Startup experience
Bimal Maharjan is 11Beep's CEO. He has worked at Indian IT giant Infosys in the past, and has experience of starting several startups, including a stint at the Tech Peaks accelerator in Itay. Alongside him is Vivek Bhusal, the CTO, who's the lead Android developer at Young Innovations, co-founded app developer Appsmunk, and has a range of apps in his portfolio such as the corruption reporter app I Paid A Bribe.
Maharjan and Bhusal have been working together for nearly two years, be it working at Young Innovations or participating together in Startup Weekend events.
Watching you tweet, watching you work, watching you think
Maharjan explained to Tech in Asia that during his time at Tech Peaks in Italy, he used Facebook and Twitter to do some analysis of his competitors. Collecting all their Twitter and Facebook posts in an Excel sheet, Bimal realized he could find out a lot about those people as a whole – not just about the competitive edge that he was looking for. He says:
The idea that even simple Excel sheet analysis could reveal so much, let alone how much machine learning, semantic analysis and all those stuff would reveal, freaked me out.
That research made him realize how easy it is to paint a picture of someone from existing social networks – not just companies like Facebook and Google, but anyone who takes a moment to look into your social stream. That can cause huge problems.
While reading the book Hatching Twitter and seeing its growth – especially Twitter's role in Arab Spring uprisings across the Middle East – Maharjan became concerned. He says, "Now I wonder what would happen to people who tweeted against their governments and other strong governments in the world."
Snapchat's evolution beyond just sexting also made Maharjan consider his own approach to a social network. Putting all these dots together he came up with the idea of 11Beep, made for people who don't want to worry about leaving a digital footprint.
(See: New job postings show Rocket Internet is set to drive into Nepal)
No stalking
11Beep tries to solve this problem by letting users choose their audience, so they can select which friends can view posts. Plus, the app lets people set a custom delete time for posts, which can actually be quite long. It's about balancing the permanent and immediately erasable, at a customizable point between Facebook and Snapchat.
That can help prevent employers stalking and firing employees due to their social media activities, and other actions that worry Nepali netizens, such as visa being denied because of a person's actions on social media, or a university screening people based on what they've posted. Of course, the new app can't do anything about pervasive government surveillance on the web.
The new app has plenty of rivals, and also faces challenges as a startup hailing from Nepal, which some describe as third-world. But Maharjan is optimistic, saying that "the concept of destructive social media has already been accepted and validated by the market," so now it's a matter of standing out and being seen.
11Beep's target market is Southeast Asia and India. According to the World Startup report on India by Bowie Gai, India has about 35 million smartphone users, so that's a good starting point. Cheap and popular phones by local brand Micromax ensure that it's a growing market at a wide range of price-tags.
(Editing by Steven Millward, Josh Horwitz)