Much has been said about how governments around the world are trying to replicate Silicon Valley in their own backyards. The prevailing view is that having a strong innovation-supportive university is critical to creating a successful startup ecosystem.
In that regard, Singapore is on the right track. According to a new MIT-Skoltech study, which interviewed 61 'experts' from around world in 2012, the National University of Singapore (NUS) is deemed to be among the top ten universities that "created/supported the world's most successful technology innovation ecosystems."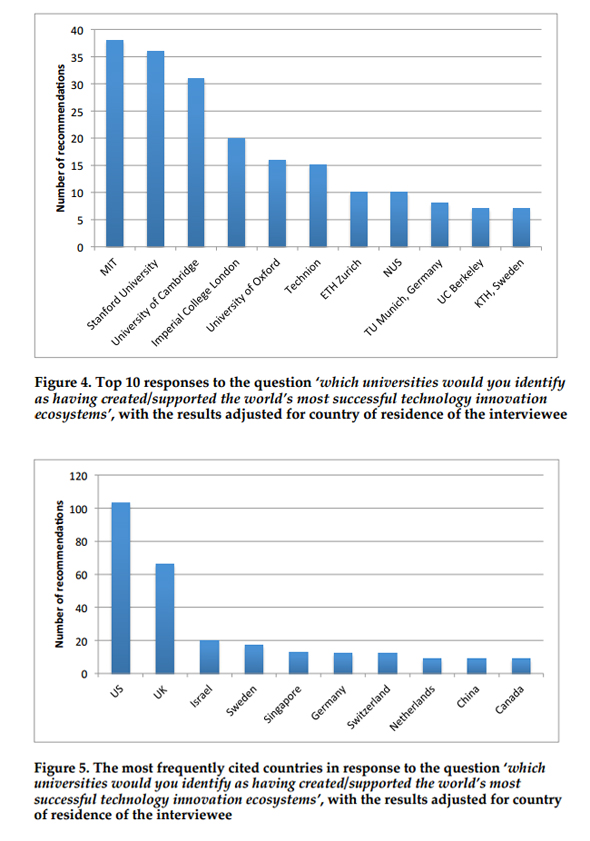 How authoritative is this study?
Tempting as it might be to take this study at face value, the methodology deserves further scrutiny.
Experts were picked based on how well-cited they are by academic journals and their active involvement in respective startup ecosystems. Snowball sampling was also used, which means the research team relied on recommendations from fellow expects to select interview candidates.
The study is highly qualitative in nature: interviewers asked open-ended question that were later analysed and collated. As such, answers tend to be highly subjective and may not truly indicate how innovative-supportive universities are, relative to one another.
Some universities may have been left out simply because they are new, low-key, or didn't do much marketing. I also have my doubts about whether experts are knowledgeable enough about all key universities around the globe to make a truly informed comparison.
At best, this study captures the opinion of the thought leaders in the field of entrepreneurship, opinions which nonetheless carry a lot of weight because they are both actors and experts in their ecosystems. Ultimately, their opinions will shape the health, prestige, and development of startup ecosystems around the world.
So, while the notion that NUS is placed 8th and UC Berkeley 10th is disputable, this study should still be taken seriously.
What does the study actually say?
The study sought to find out which universities most supportive of innovation. Seven factors were identified by experts to contribute to the success of a university ecosystem:
An institutionalized entrepreneurship and innovation culture.
Strength of university leadership in establishing an ecosystem.
University research capability.
Local or regional quality of life.
Regional or government support.
Effective institutional strategy.
Powerful student-led entrepreneurship drive.
While NUS was picked for the top ten, there's no indication whether these seven facets were applied uniformly by experts or whether they were weighed the same way by each individual. Most likely not.
However, it isn't difficult to explain why NUS has made the list. The Singapore government has been pouring money into entrepreneurship and innovation, benefiting NUS in the process.
The university also has a structured and coherent approach towards developing a culture of innovation. It has the NUS Overseas Colleges program, a work and study scheme where students are placed in universities and startups in San Francisco and elsewhere.
It also runs a startup incubator through NUS Enterprise, funding startups with the iJAM scheme as well as providing mentorship and office space.
Asian universities still have a long way to go
Save for NUS, no other university from the Asia-Pacific region made the list. China, however, did emerge as one of the countries that has most benefited from innovation-supportive universities.
So, while no single university in China stood out, their combined force has certainly propped up China's ecosystem. That said, it does seem that Asian countries are not in position to challenge the likes of Stanford, MIT, and Cambridge anytime soon.
One question which the report doesn't quite answer (not that it's attempting to) is the causation between an innovation-supportive university and the strength of a startup ecosystem it resides in.
While a correlation exists when one compares the countries highlighted in this study with the Startup Genome report, what's less clear is how crucial an innovation-friendly university is in creating a successful startup environment, or whether is it simply the end-product of a well-developed ecosystem.
But I do have a sense that bottom-up innovation, or the notion that entrepreneurs must be the ones driving entrepreneurial initiatives, is the only sustainable approach in the long run.
So it doesn't matter if a strong innovation-led university is set up in a culture and environment that's unfriendly to startups.
What matters ten times more is whether the government can bring change in the country or city's prevailing culture in short order,  nurture the next tech millionaires or billionaires, and get them to contribute back to the system.