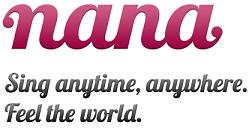 Tokyo-based startup Nana Music has finally introduced a global version of its iPhone app. It allows users to sing, play songs, and collaborate with other users on their Nana platform. The app was launched two months ago, but has been for Japan only up until now. The service has acquired more than 4,400 users and has seen over 10,000 recorded posts since then.
The new version is designed to fit iPhone 5's longer screen, and it's now integrated with Twitter and Facebook. The maximum recording time has also been extended from 60 to 90 seconds.
The startup has introduced some user interviews with some users, including a university student/amateur singer and a karaoke girl. They hope this may motivate you to give their music collaboration service a try.
Readers may recall reading our past coverage about the app, which gives a little more background about the startup's journey thus far. Get the new global version of Nana app here in the App Store.