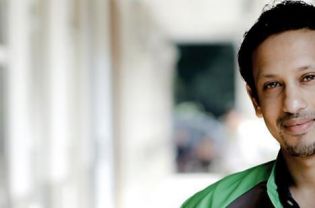 There have been concerns about Zalora's general performance since it launched. And the news of Nadiem Makarim, managing director at Zalora Indonesia, resigning from the company didn't come at a great time. I thought it would be nice to learn the situation straight from Nadiem himself. My first question to Nadiem was to find out how Zalora Indonesia is doing. The answer from him? "It's good." He added:
Zalora is definitely scaling quickly and hiring a lot of local talents from all over the world, but the majority is local talents. It has been a pleasure to oversee the growth of Zalora Indonesia from ground zero until it [the current count of] 80 employees.
Nadiem declined to share any form of statistics about Zalora. So "why quit Zalora?" is the logical next question. For this, Nadiem put on his entrepreneur hat. He explained to me that leaving Zalora Indonesia makes sense as he is eager to create a company which he actually owns. After all, he is an entrepreneur at heart and the temptation to build another startup for himself in Indonesia was just too great. He explained that Zalora confirmed to him the potential of the Indonesian market. His next venture hasn't been decided but he did say that he would like to spend more time on his first startup, GO-JEK, and at the same time explore other ventures in the tech and social media space.
Nadiem also believes that the current Zalora Indonesia leadership team will carry on the momentum (led by 2 ex-McKinsey consultants with entrepreneurial experience, Catherine Sutjahjo and Amrit Hassaraam) emphasizing that Zalora is doing well. He also thought that he learned enough from this Zalora journey, which is the main goal of why he accepted the position in the first place. He had the chance to build a mega startup and work with some of the best talent across the region. Speaking about lessons learned at Zalora, Nadiem pointed to three things:
The speed of execution at Rocket Internet is key to its success
High sensitivities of Indonesian consumers to specific pricing shifts, prices, discounts, and promotions
Talented & highly analytical team members makes a big difference in validating data collected from the market
So what's next for Nadiem? A holiday is definitely in the pipeline. But he has already started exploring several venture options. He tells us that GO-JEK is now open to the possibility of funding to accelerate growth despite being already profitable. The company does have the potential to become a successful startup as a support platform. But Nadiem admits that it is probably harder for GO-JEK to scale as quickly as a fully tech-based ventures
GO-JEK now has 15 full-time employees so far, boasting 450 drivers in 151 locations with 6,000 unique users. Besides the B2C model, GO-JEK also has a growing B2B model which caters to e-commerce sites and corporate level services. For example, not only are drivers becoming dedicated cash-on-delivery agents for e-commerce ventures, they are also become sales agents to street kiosks for Multinationals like Danone. In the future, GO-JEK might even consider monetizing the "foot-traffic" of its Go-jek drivers by allowing advertisements on its bikes.
Whether Zalora Indonesia is really doing well remains to be seen. The market will eventually decide.