After a battle with Jakarta's evening traffic, Doku founder and COO Nabilah Alsagoff steps into the city's upscale Luna Negra restaurant. All the guests momentarily pause their conversations. Heads turn, cameras flash and click, and each guest takes a moment to politely greet her. The mild-mannered but quick-witted Singaporean exudes a cheerful demeanour and offers some smiles and handshakes before settling at a corner table.
"We got the idea and started the company right after the first first bomb went off in Bali," says Alsagoff, recalling the notorious terrorist attack on a Bali night club in 2002. Alsagoff marks the infamous tragedy as the moment that would set in motion a chain of events leading to her company's inception. She explains, "We were working with the local tourism board at that time, and the thinking was to create a portal to support the recovery of Bali." Alsagoff claims her initial concept was to pull resources from the international community for rebuilding efforts and to allow accommodations like hotel bookings to be easily accessible through a single website. With a Malaysian company poised to support the project's online payments, Alsagoff quickly formed the concept for a similar, but homegrown, business model for Indonesia.
Fast forward ten years. In June 2013, Doku announced it had reached a new milestone of US$1.1 billion in total transactions. As of this month, the company has more than 2,000 corporate merchants (up from 400 at this time last year), and estimates a 40 to 50 percent growth in size in 2014. With a client list that includes names like Air Asia, Sinar Mas Land, Oppo, VIVA news portal, and Indonesian Idol, Doku is arguably the top-of-mind brand in the archipelago for online payments. The company has partnered with financial service brands including VISA, Mastercard, Mandiri, e-Pay, and BRI. Doku's three pillar support products include Doku Wallet, MyShortCart and its flagship integrated payments system for complex, corporate transactions. MyShortCart is convenient for small and medium-sized enterprises (SMEs) to sell online via sites like Facebook, while Doku Wallet is a simple product to help users easily shop on ecommerce portals.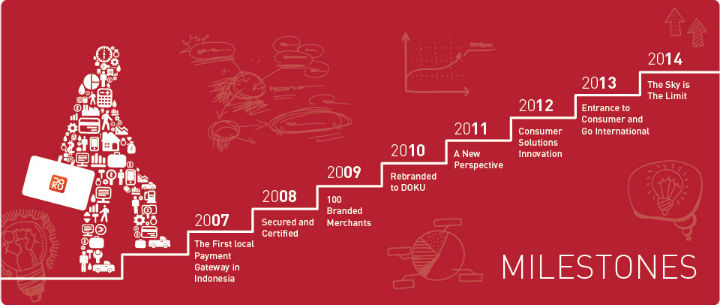 See: 18 popular online shopping sites in Indonesia (2014 edition)
Sleepless nights
Alsagoff pauses and thinks back to the early days. She recalls the Ministry of Communication and Information asking her about topics related to cyber laws that were passing in the early 2000s. She explains:
We were really blazing the trail at that time. We had to be bold […] When we talked about ecommerce and e-travel, we had to help define those things. What do they really mean? For example, etravel does not just mean issuing an electronic ticket. We had to show the Ministry a detailed, end-to-end process for a payment solutions service and how we could implement it."
According to Alsagoff, 2005 (before Doku was officially incorporated) was an endurance trial for her team. She paints a mental picture of herself sleeping like a fireman, ready to spring into action should the BlackBerry next to her pillow ring in the middle of the night. Alsagoff says the main challenge to overcome was showing the banks that she and her partners knew how to handle the business and solve any problem that may arise. She says:
The expectation from the banks was very high because we had to risk their reputations as well as our own. They told us if we don't manage the company well, we would bring everyone down, not just ourselves. So, we were at their beck and call, anytime, anywhere. We had sleepless nights when we unrolled a new service, all of us had to always be on high alert in case something went wrong."
Joining the big leagues, serving the little guys
Today 80 percent of Doku's business comes from Indonesia's big corporations. Alsagoff claims that Doku first and foremost caters to large enterprises that require a high volume of "complex monthly transactions."
However, Doku claims to recognize the value in serving SMEs as well. MyShortCart acts as a tool for helping SMEs that may only exist on social networks like Instagram, BlackBerry Messenger, and Facebook accept digital payments. Essentially the product lets the micro businesses set up their own personal payment portals. All the merchant needs to do is register an account with Doku and shortly after will receive a payment link which they can then copy and paste anywhere online. Customers click on the link and are able to pay the merchant.
Alsagoff says, "At this level it's all peer-to-peer and the challenge is always figuring out what are their needs. We try not to be too intrusive, but we have provided them with a payment link. It's like having a back office and you don't even have to have a website to do this."
To date, Doku has not received any outside venture capital or angel investment. Alsagoff did not share the exact amount of seed money that is necessary to start and scale up a company like Doku, but did reveal that all the money so far has come from her and her teammate's pockets.
According to Alsagoff, several local players in Jakarta's venture capital community have approached her with investment interest in Doku, but she has not yet found one Doku is eager to work so closely with. She says, "For the past two years, they've given us a lot of queries. We like to see what they can bring to the table. We're always interested in hearing how they feel they could expand our business, but right now we're actually at a really comfortable level."
No man's land
After seeing Doku's growth in the Indonesian market, Alsagoff says the firm has started experimenting in developing regions like Papua New Guinea, a nation that her team believes has an infrastructure equal to that of Indonesia's 15 years ago. According to Alsagoff, Doku was able to implement one of the first payment solutions for one of the country's national banks.
She cites challenges like language barriers, cultural differences and distance as the main obstacles Doku had to overcome for success in the remote country. But to Alsagoff, it's all part of the fun. She says, "I guess that's the beauty of ecommerce. It's global and it doesn't matter where you are. You can run the whole thing even if your team members and offices are in different countries."