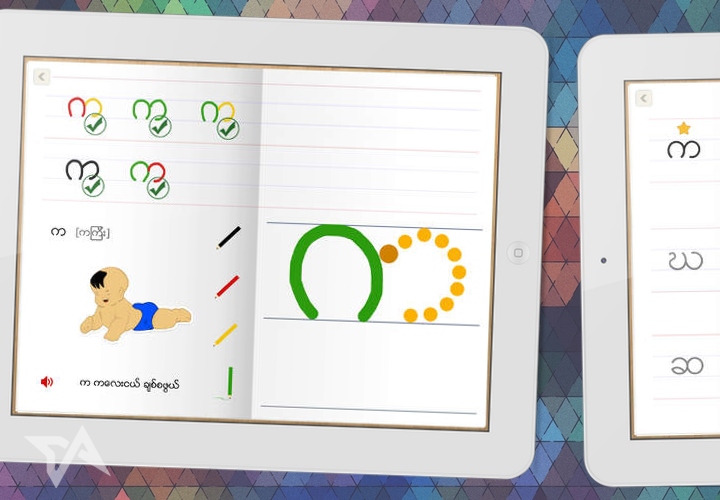 Only about 10 percent of Myanmar's population have a mobile phone right now – and even fewer have a smartphone or tablet. While Myanmar is an exciting, new, and sizable market, it's still very early days.
One startup based in Yangon is keen on gaining traction in this formative stage. A team of app developers recently released its first educational iPad app, called Phew (pictured above). It's designed to help kids learn how to write the mellifluously flowing characters of the Burmese language. The Brahmic script, like Thai or Tibetan, is quite hard to write.
Myo Myint Kyaw from Revo Tech, the startup behind Phew, says the team has a lot more educational apps in the pipeline. "It's one of the first – if not first – educational apps for Myanmar," says Kyaw. The next app will be based on Myanmar numbers, which also uses the Brahmic script, not the Arabic numerals we're used to.
See: Myanmar poised to have '60 million citizens come online almost overnight'
Kyaw concedes that his audience is quite small at present. "In Myanmar, most of the people use Android for their phones, but when it comes to tablets they prefer the iPad. That's why we introduced the iPad app first. We are also working on the Android version [of Phew] and it will be coming soon." In a different vein, the 10-man crew is also working on a music app that will be revealed later in the year.
Myanmar gets 3G for the first time today with the rollout of Qatar's Ooredoo (LSE:QTED) network. It comes nearly 14 months after both Ooredoo and Norway's Telenor (STO:TELO) won the multi-billion dollar deals to build mobile networks across the country.
Phew is free for iPad, but requires a US$1.99 in-app purchase to unlock the whole alphabet.
Here's a brief demo video showing Phew in action.