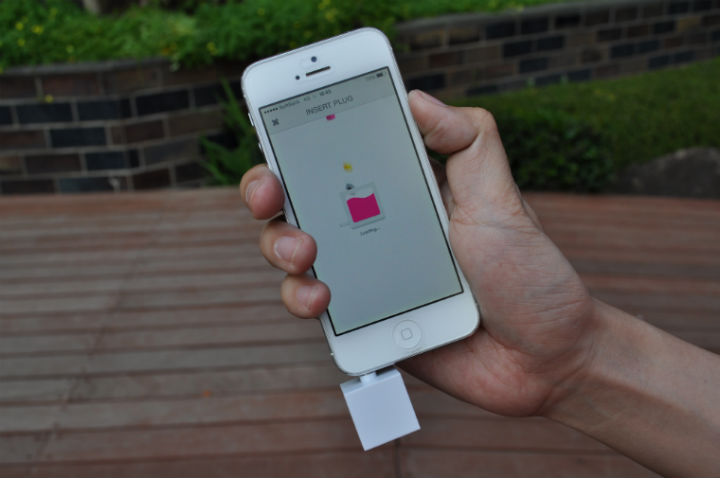 Japanese convenience store chain Lawson will announce its US$1.1 million series A investment in Tokyo-based startup Beatrobo later today, Tech in Asia has learned.
Beatrobo is a global, social music service that uses customizable robot avatars as a conduit for sharing songs and discovering new artists. The company's first attempt at hardware, PlugAir, may become the digital mixtape of the future. The tiny device plugs into a mobile device's earphone jack and acts as a key for instantly downloading music.
Hiroshi Asaeda, the CEO and co-founder at Beatrobo, explains the appeal of the tie-up with Lawson. "There are more than 50 HMV stores in Japan. Lawson? More than 10,000. Millions of customers a day will have a chance to see [PlugAir]. You can see it, get it, and use it instantly. It's like buying a Coke."
"We're trying to replace the CD or the USB stick," he added.
For Asaeda, the Lawson partnership solves two key hurdles for bringing PlugAir to the world: mass production and distribution. Beatrobo will license the PlugAir patent through Lawson, and that will open up a whole new world of merchandising opportunities. Asaeda hopes for the same kind of cult success for its gadget as seen by the iconic Be@rbrick character, which has featured some unique collaborations with artists.
Born from an Indiegogo campaign
Beatrobo, which originated on as a Facebook app before receiving a dedicated mobile app, would become the starting point for a jump into hardware. Amid the rising popularity of the music streaming service, CTO Hideyuki Takei approached Asaeda with the 3D-printed prototype of a device that the company hopes will "reinvent the mixtape in a digital way."
"We thought: wouldn't it be cool if we could exchange music playlists like we do in Beatrobo but you can just hand it to a person?" Asaeda said. "We wanted it for music, but one day we realized that it was a new technology in itself. We started thinking about the value of hardware."
That prototype device was in the shape of a Beatrobo character. Then the startup scrapped the cutesy robot design for a minimalist cube and named it PlugAir. Asaeda describes the patented gadget as the CD of the smartphone era – there is no registration process, no password prompt, and no need for a credit card. To get content – be it music, video, photos, ebooks, and the like – users simply download the companion app for iOS or Android and plug it in.
Despite being based in Japan, PlugAir debuted last November via a successful Indiegogo campaign in collaboration with American rock band Linkin Park. Members of the fan site Linkin Park Underground were able to purchase custom-branded PlugAirs loaded with unreleased tracks and videos from the group.
Asaeda, who points out the rarity of large Japanese corporations investing in startups, places his company's current valuation at roughly US$8 million.
Beatrobo has an app for iPhone.