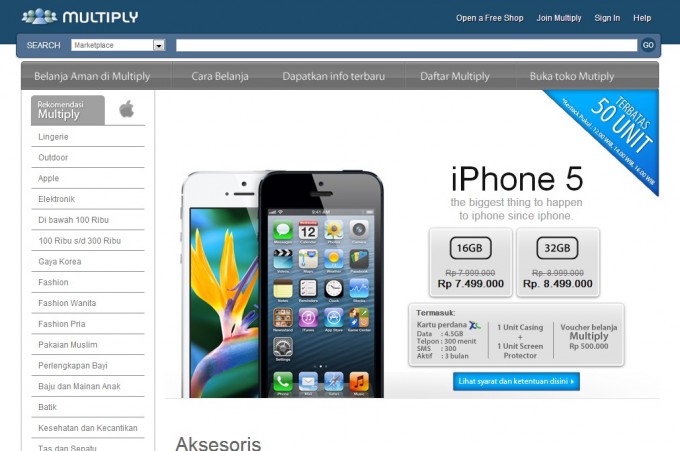 A short time from now, at 12noon local time, Indonesian e-commerce store Multiply will start its iPhone 5 pre-orders. The site will sell two XL Axiata bundled versions of the handset – the 16GB and 32GB. Below are the pricing schemes for three of iPhone 5 packages so far (in rupiah, then in dollar):


The total number of new iPhones available for pre-order is a mere 50 – yes, fifty – with more 16GB units than 32GB ones available. With the fact that Telkomsel's pricier packages sold out its stock of 2,000 phones for pre-order in the last five days, then Multiply's mere 50 units should sell out very fast. The e-commerce site will offer more next week under a different offer. Buyers can expect to receive the phones on December 14th – when the iPhone 5 officially launches in Indonesia and a few other countries.
XL Axiata hasn't started its own online pre-orders, nor has it revealed the iPhone 5 pricing scheme. The carrier will be holding its offline program, dubbed Antri Like a King, on December 14th instead. So Multiply's offer is the first XL Axiata bundled package to be sold in Indonesia.
For more information and to pre-order the phones, you can check here.