A couple of years back, if you were to buy a sub-$200 smartphone, you wouldn't really get much. Performance would be terrible, build quality would have been unbearable, and the touchscreen nearly unusable. Lately, however, things have changed. With smartphones becoming the norm and component prices getting cheaper, it's been getting easier for manufacturers to make good phones at ridiculous prices. From the $300 Nexus line to the sub-$200 Nokia Lumia 520, many phones now offer a great experience at an even greater price. The latest phone to try and take on that mantle in Indonesia is Motorola's Moto G.
The Moto G was released in America in late 2013 to largely positive reviews. Half a year later, the phone has finally made its way to Indonesia, where the Motorola team along with members of Lazada held an official launch event on June 5. Since then we've been working on a hands-on review of the Moto G.
The phone is being sold exclusively online through Lazada, with the 8GB variant shipping now and the 16GB one coming in late June. The Moto G variants cost IDR 1.949 million (US$163) and IDR 2.249 million (US$189) respectively. Essentially it's the same Moto G that launched last year in Brazil, with a few changes to adapt to the Indonesian market.
The Moto G is equipped with a 4.5-inch 720p HD LCD display, a 5MP shooter, a quad-core Snapdragon 400 processor, 1GB of RAM, and dual-SIM support. Motorola is also throwing in 50GB of Google Drive storage which is valid for two years. The back of the device is removable, and Motorola has seven different colours you can choose from, which retail for IDR 104,000 (US$8.80) each on Lazada. One thing that's surprising is that the Indonesian model comes with a wall charger and a USB cable, whereas the ones shipped internationally only come with a cable.
Note that there's no micro-SD card slot on this Indonesian model. The first variant of the Moto G did not have support for external storage, but last month Motorola updated the phone with SD card support. However, it is left out of the Indonesian Moto G in favour of a second SIM slot.
Feels solid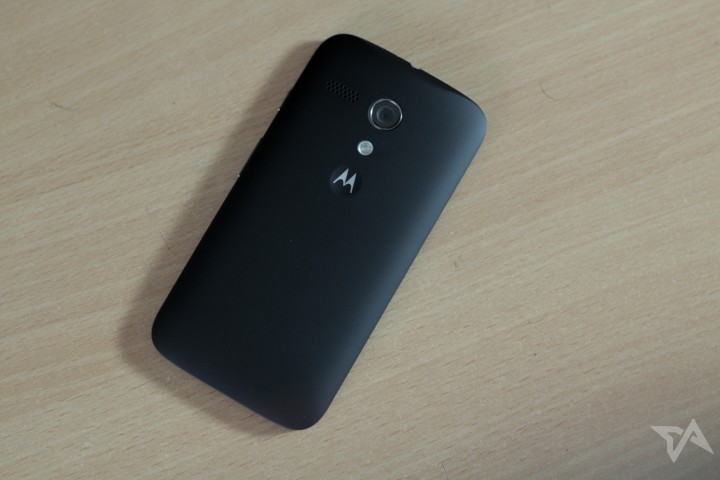 The first thing you will notice about the Moto G is the build quality. From the moment you pick it up, you'll be convinced that this phone is worth more than its price-tag. Everything about the design of the phone, from the way it fits snugly in your hand to the comfortable soft touch material on the back, gives it a premium feel. Although the back is removable, it doesn't really feel that way as the cover blends seamlessly with the overall aesthetic of the phone. It's heavier than most other phones, but it isn't the bad kind of heavy – it feels like it's solid and well built. The size of the phone is similar to that of the iPhone 5, but because the screen is 4.5 inches and the side bezels are so slim, it feels much more immersive. Speaking of the display, it's one of the best in its class. While it's not 1080p HD, the 720p display comes in at 329PPI (pixels per inch) and is clear and crisp for most things. That is, when you have nothing to compare it to. Putting it side by side with the three-year-old Samsung Galaxy Nexus, which has the same resolution and a lower PPI due to its larger size, you can see that the colours on the Moto G look muted and less saturated, the blacks are more of a light gray, and when you push the brightness up to maximum everything just tends to look washed out.
Of course, for a phone to reach such a low price point, there are bound to be some compromises resulting in issues with the hardware. In this case, some are not so annoying, but others are unbearable. One of the major problems I had with the Moto G during my testing was with wi-fi. More often than not, the phone would randomly disconnect from wi-fi networks and would refuse to connect again, with the only remedy being switching off the wi-fi and then switching it on again. This could be attributed to the lower quality wi-fi chip found in the device. Another gripe about the wi-fi chip is that it doesn't support 5GHz bands, but if you don't know what that is, it probably doesn't matter to you.
The phone also lacks an NFC chip, so if you use Google Wallet or any other similar services, this probably isn't the device for you.
See: 15 new Asian smartphone makers hoping to crush Samsung and Apple
The speakers on the back of the Moto G are louder than you'd expect, especially since they're on the back. It sounds fine for calls on the speakerphone but listening to music on the thing is painful. The sounds are tin-like and sharp, while the lows are overly distorted and the mids are nonexistent. One problem that I personally have with the phone's design is that the headphone jack is on the top, which always causes the cable of my headphones to get in the way when I'm trying to use it.
The biggest downfall of the Moto G, however, is its camera. It may be a 5MP camera, but it doesn't work like one. It's slow to capture images, mostly all the colours are wrong and can never seem to focus probably. Images taken with the flash tend to be washed out and blurry, even when taken with a tripod. You'd really expect more from a 5MP camera, especially when compared to other camera' out there like the one on the Galaxy Nexus and even older ones like the 3MP camera on the LG Optimus One.
Tiny engine, massive roar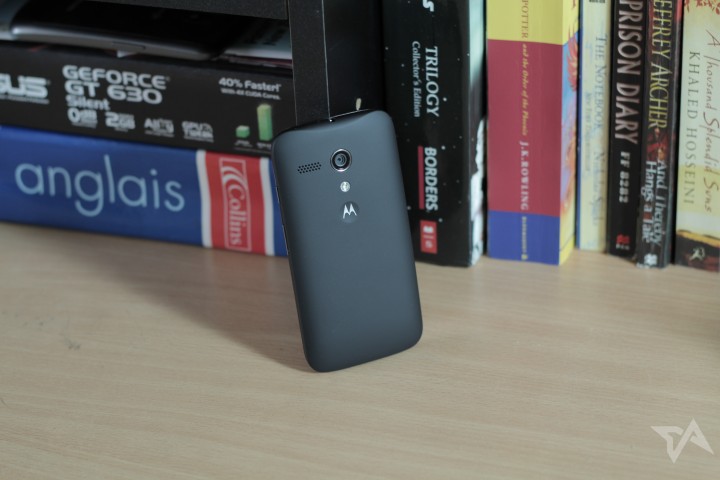 Performance on the Moto G is stellar. That's partly due to the quad-core Snapdragon chip and partly to Google's emphasis on smoothness in Android 4.4 KitKat. Apps open quickly, games run well, and you can even multitask as much as you'd like. I did get some force closes here and there when running games like Dead Trigger, but for everyday tasks it just flies. It didn't overheat at all. Loading web pages is smooth. Compared to competing offerings from Samsung and HTC, the Moto G does tasks like opening apps and loading webpages much quicker. In fact, at the Indonesian launch event, Marcus Frost, EMEA senior marketing director at Motorola, went as far as to say that in everyday tasks, the Moto G performs better than the Samsung Galaxy S4. You'd think he's exaggerating, but it's actually believable given that the Moto G runs stock Android, whereas the Samsung Galaxy S4 runs the Touchwiz skin, which is is a whole extra layer of weight atop Android, consuming more RAM.
It's because of all this that battery life on the Moto G is just as great. I was able to go a whole day without having to plug in, and still have battery left over. This was with constant use, which includes four email accounts always pulling in data and constantly checking Twitter, WhatsApp, Flowdock for work, and all the other apps that I use daily. In comparison, if I used my HTC One the way I did the Moto G, it would have died in less than six hours.
Although Motorola didn't include some of the Moto X's most renowned features (touchless control, active notifications) in the cheaper Moto G, they did include a couple of useful apps with the phone. Motorola Assist is one that comes in handy. The app does a number of things, most notably muting your phone at night when you're sleeping and only allowing notifications from important contacts to come in, and also scanning your calendar to know when you're in a meeting and automatically putting your phone on vibrate.
Indonesia's homegrown challengers
When it comes to Indonesia's local phone-makers, there's only one phone that stacks up to the Moto G and that is the new Smartfren Andromax V (aka the Andromax V2). The phone is priced at IDR 2.199 million (US$185) and has comparable specs to the Moto G. They both come with 720p HD displays, although the Moto G's display will look clearer because it's on a 4.5-inch screen, whereas the Smartfren's pixels are stretched more thinly across a 5-inch area.
They both offer quad-core processors clocked in at 1.2GHz and have 1GB of RAM, although it's important to note that since the Moto G is running Android 4.4 compared to Android 4.2 on the Smartfren, the Andromax V2 won't run as smoothly and perform as well. Two areas where the Smartfren does come out as a winner, however, are in terms of the camera and disk storage. The Smartfren is equipped with an 8MP shooter on the back, which on paper should be better than the Moto G's, especially given the disappointing results we've seen from the Moto G's camera in testing. Although the Smartfren Andromax V2 only offers 8GB of internal storage, it does have an SD expansion slot, theoretically giving you up to 40GB of memory.
Our bloggers have not had a great experience with Smartfren phones in the past, such as our problematic and laggy experience with the Andromax-U last year. That sort of issue is why Motorola conceived the Moto G as a phone that'd offer smooth and satisfactory usage at a low price. Nonetheless, homegrown phone-makers across Asia are challenging the likes of Samsung, Apple, HTC, and Motorola across the region, and the Moto G faces a huge battle to persuade Indonesia's consumers to give it a go.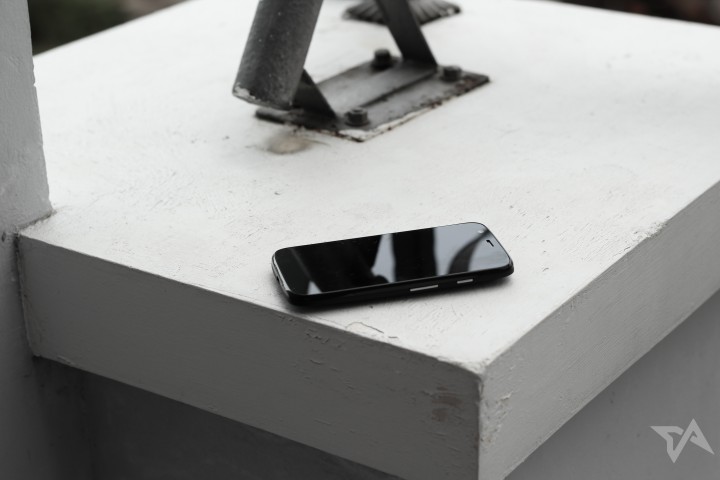 Moto G conclusion
There was a time when Motorola was the dominant force in the phone market, but nowadays technology has moved so quickly that they've been all but forgotten. Samsung is now the major smartphone brand, with a number of homegrown Indonesian phone-makers growing in stature as they try to grow market share in the country with a wide array of cheap yet mid-range phones.
That's why it makes sense Motorola didn't choose to re-enter the Indonesian market with the Moto X, because its price would make it a harder sell. At the other end of the spectrum, the insanely cheap Moto E would perhaps give people the wrong impression that it's a bargain-basement phone with major issues. The Moto G sits perfectly between the two – and in this market – in terms of price, and performs even better than most phones in higher price ranges. It's definitely a strong entry for Motorola to get a foothold in the Indonesian market. Yes, there are compromises with the Moto G – especially that camera – but it's the best of the inevitably compromised, affordable phones.