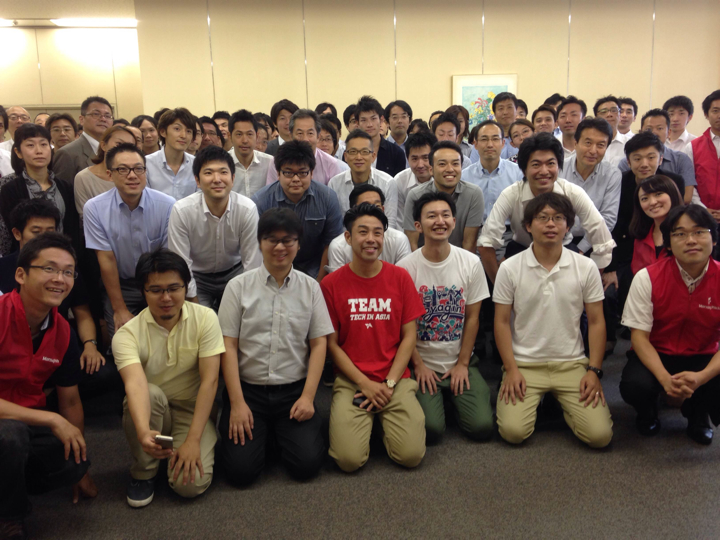 A peek around on the train and the pre-rush hour crowd in Tokyo shows everyone with the same look of I-sincerely-regret-my-life-choices as they head to work. An unassuming conference room tucked away in one of Tokyo's many skyscrapers has a very different energy. There, an expectant audience of tech geeks and corporate executives waits to hear entrepreneurs pitch their startup ideas. Welcome to Morning Pitch.
Anyone who thinks entrepreneurship is dead in Japan has not been to a Morning Pitch event. Tohmatsu Venture Support holds its flagship event every week in downtown Tokyo. Every week startups from around Japan come and give their pitch to an audience of their peers and several investors. The event started with a regular audience of less than 10 but now regularly attracts over 75 attendees.
Tech in Asia was proud to sponsor today's Morning Pitch. Listed below, in no particular order, are the startups which presented this morning.
1. Entertainment Kick
CEO Masashi Takahashi explained the company's main product, Voyagin, as a website that puts tours, activities, and ecommerce under one roof. Its target audience consists of individuals who are traveling throughout Japan and Southeast Asia. So far, Americans and Europeans on couple vacations make up the majority of Voyagin users.
The site boasts 1,300 tours in many shapes and sizes. One tour Takahashi cited gives the user a guided tour of Harajuku, a prominent youth and fashion center in Tokyo, via a so-called "Harajuku Girl." Voyagin does protect customers by screening tour guides. Though amateurs can sign up and offer their services, the most popular plans tend to be done by professionals.
2. AdInnovation, Inc.
Founder Hiromitsu Ishimori described his four-year-old service as smartphone app marketing at a global scale. The company works as a one-stop-shop for technology, marketing and consulting services. It has the technology to analyze ad effectiveness, the marketing know-how to increase return on investment for app advertisements, and the consulting chops to tailor an ad for maximum impact.
The company sees its future in bringing Japanese apps to overseas and vice versa. It has made contacts in Russia and China, from where it intends to move into Europe and Southeast Asia, respectively. Ishimori touted the company's record of doubling its revenue for the past two years.
See: Why Deloitte is the godfather to over 2,000 Japanese startups
3. Quan, Inc.
Kazuhiro Mizuno, Quan's CEO, may have been exaggerating when he said the company is Japan's first global content provider. Even so, his company does have a record to be proud of. The company makes stickers and sells them individually or to corporations for use on messaging services. They have appeared on Line, WeChat, KakaoTalk, and Path, among others.
So far, it offers 600 characters to choose from, 54 percent of which are made in-house. The remainder are picked up from outside artists. The company has already expanded into Thailand and secured partners like Touchten, Magic Box Asia, and Pocketplay Lab. Next up is Indonesia and Vietnam.
4. Mind Pallete Co. Ltd
Mind Pallete CEO came to Morning Pitch to talk about Snapeee, its photo sharing app. Fresh off a US$4 million funding round, Snapeee intends to have video support by the end of the year. It has 8 million registered users who tend to be hooked by the photo sharing feature and end up staying for the branded channels. With only 20 percent of it's users in Japan, the app shows promise for becoming a strong global brand.
Be sure to catch these startups and many more at StartupAsia Tokyo on September 3 and 4. And, if you are passing through Tokyo on a Thursday, don't miss the next Morning Pitch!
9月3日と4日にスタートアップアジア@東京を開催します!8月29日まで、割引コード < latebird >を使ってみて下さい!
Startup Asia Tokyo 2014 is on Sep 3 and 4. Until Aug 29th, unlock secret level using code < latebird >