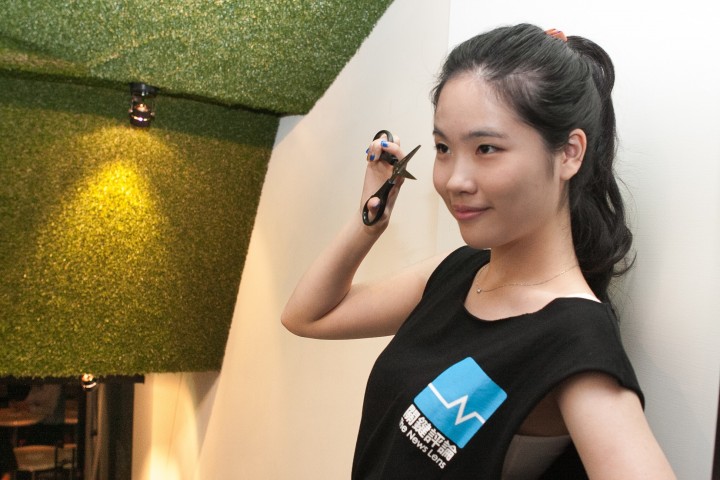 Media might seem like one of the last industries an entrepreneur in Asia ought to enter.
For one thing, the continent has never been known for producing hard-hitting journalism. On the Reporters Without Borders 2013 Free Press Index, Taiwan and South Korea earn the highest rankings for Asian territories as they skim the edge of the top 50 (ranking at #47 and #50 respectively; Japan ranks at #53, Hong Kong at #58, Singapore at #149; the US sits at #33).
Meanwhile, options for monetization ought to make aspiring media titans shudder. Unless you're certain your readers will cough up serious cash for Pulitzer-quality coverage, you better get ready for puppy slideshows-galore to keep advertisers happy.
On the other side of the coin, however, the media landscape in certain parts of Asia remains ripe for disruption. Most of the popular media outlets are owned by massive media conglomerates with obvious political biases. They target readership by nosediving after low-hanging fruit like celebrity gossip or food safety scandals. They're in the dark ages in terms of online strategy. There is no Slate, no Huffington Post, no Quartz, no Buzzfeed. These are the sort of models that could potentially upend the status quo.
And it's this sort of model that The News Lens, a startup based out of Taipei, aims to bring to Taiwan. And what started as a laughably idealistic idea for a startup – value-driven media on the Huffington Post model – is steadily seeping into the daily lives of connected Taiwanese adults.
"We're actually doing this," says Joey Chung, co-founder and CEO of the organization, during his second chat with Tech in Asia. "That's one thing that I can say now that I couldn't have said two months ago. This is actually happening."
Entering the ecosystem of the everyday
There have been some cosmetic changes at the TNL headquarters which indicate the growth it's seen since the team last spoke to Tech in Asia. Chung and Mario Yang, co-founder and editor-and chief, have moved out of their stodgy office space near Taipei 101 into a first-floor workspace on Yongji Street. Situated among clusters of cafes and cheap eats, it's an environment that better suits the company's young staff. In addition, its team has grown from 14 to 18 (including interns and part-timers) – more writers, more content.
The stats have also shot up. By the end of September 2013, just eight weeks after its official launch, the website had accumulated 620,000 monthly unique visitors. At the end of October it saw 1.1 million MUVs, and that number grew to 1.5 million in November. It's global Alexa ranking has reached 27,000.
Chung and Yang's vision always went beyond pageviews, however. The two wanted The News Lens to be on every screen in the hyper plugged-in city of Taipei; a breathing, non-intrusive presence in every young adult's daily life. And they've gotten off to a solid start. One month ago they formed an agreement with local ad content provider C2, a company with with LCD screens installed in movie theaters, airports, food courts, and malls. Now, if you get out of subway at Taipei City Hall Station and head to Uni-President Mall upstairs, you can catch a glimpse of a one-minute video news segment produced by The News Lens, covering domestic, Asian, and international news. In addition to all of C2's screens in Taipei, Chung and Yang have also placed their segments on screens in elevators and office buildings. Public buses should be on the way soon.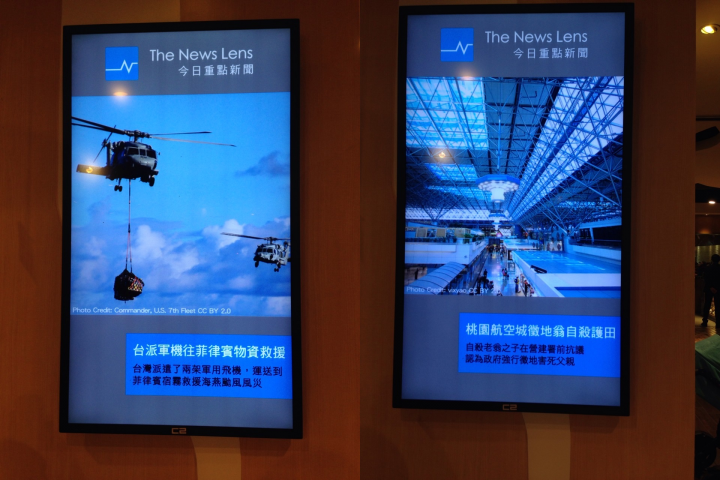 Chung considers this minor benchmark as a confirmation that business partners and advertisers understand The News Lens' mission, which he describes as half-business, half-ideals. Whereas some might argue that models of new modern media like Buzzfeed hold no ideals, The News Lens, to a certain extent, needs to communicate its intention to improve the status-quo media landscape in order to make its pitch palatable.
Half the reason they were interested in doing it was because we can attract eyeballs. Consumers these days are de-sensitized, and when they see ads or movie trailers in public places they're not interested in looking. So from the content providers' point of view, they're very interested in having content that will air once every sixty minutes that adds value and keeps eyeballs on the screen longer. The other half was the ideals. We ask them, 'Do you want to help make the media environment valuable? Do you dislike the Taiwan media environment and want to help make a change?' To my surprise, this part of the pitch also works well.
In addition, The News Lens is moving onto these screens because leading mainstream media institutions either can't, since content providers like C2 don't want the political baggage that comes with airing their footage, or won't, since the media companies are content to stay put on the television airwaves. "It's one of those classic dilemmas where you're on top for so long, so you're slow to see how others might disrupt you," Chung says.
Making the rounds
Much like one might have to be crazy to start a media company in Taiwan, one would also be crazy to invest in one.
When Chung and Yang hung their shingle last June, they proactively reached out to potential investors in Taiwan and Asia just to see what was out there. Much as they expected, initial reactions to their pitch were neutral at best.
But by September, once the pageviews started coming in, things had changed. The same investors they spoke with months before were now calling them. This put Chung in a privileged, if awkward position. Who could he trust to fund The News Lens without compromising its neutrality?
We had a lot of discussions with investors that were based here, or were Asian or Taiwanese branches of international VC firms. We were really happy and flattered with those discussions. But since a lot of those organizations big names were big names with big connections, there could always be the perception among our readership that we were left or right, which would be a problem. So even though we're on good terms, we decided it would be risky for us to take them on.
Without a good match in the neighborhood, The News Lens fell into an even trickier dilemma. Their content and mission remained rooted in Taiwan and the Chinese-speaking world, but any investor with ties to Taiwan or Greater China carried political baggage. The firms in the best position to understand what made the The News Lens disruptive were the ones in the best position to mangle what made it valuable.
Around October, a friend in Chung's alumni circle was attending a conference in Asia where Marcus Brauchli, former executive editor at The Washington Post, was set to speak. At the podium, Brauchli announced his intentions to invest in digital independent media outlets in emerging economies, alongside Sasa Vucinic, the Serbian journalist who, after covering Yugoslavia in the eighties and nineties, went on to help found the Media Development Investment Fund with George Soros. The friend approached Brauchli. Chung found an email in his inbox asking him to set up a call with Brauchli and Vucinic.
After a grueling two-hour Skype session with Brauchli and Vucinic, Chung and Yang received a message from them stating that The News Lens was exactly the sort of outlet they were looking to invest in – an independent, digital-first publication that fills both a market void and a "perspective" void. Vucinic and Brauchli each made independent visits to Taipei to hash out the details of the upcoming investment, which was announced last Wednesday.
"It was a perfect mix for us," says Chung. "They wanted to make sure that the people they brought on board had the same ideals as they did. But the same time, [Vucinic]'s background is media investments. So he's very much a businessman, and very savvy about how an organization ought to think and grow."
The news next door
As is typically the case when startups receive backing, their strategy has taken some slight pivots since Vucinic and Brauchli have joined as angel investors. Chung notes that as soon as their conversation was over, The News Lens got to work on developing the website's then-nascent video page.
"They were very adamant about video," Chung notes. "One of their earliest questions was "What about video?" and 'What about mobile?" Based on US numbers, video will be the future and mobile will be the future, so no matter what you're doing right now, get to video and get to video on mobile."
In addition, according to Chung, Brauchli and Vucinic both recognized The News Lens' potential to expand into other Chinese-speaking territories, and came on board in part for that reason. At the same time, this potential has made maintaining a stronghold in Taiwan all the more crucial. Chung and Yang are even more certain now than they were two months ago that domestic competitors will emerge sooner or later. As a result, the two hope to stabilize operations at home first before making commitments overseas.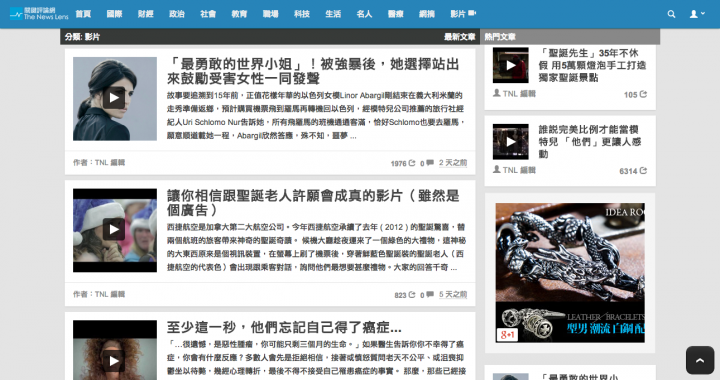 Early 2014 will see The News Lens evolving to meet the demands of its growing readership. In addition to fleshing out its video and mobile offerings, its website will be redesigned to help focus on new data points. Now that the website has 1.5 million monthly unique million visitors, Chung and Yang are more concerned with how long these users stay on the site, not just getting them there. They're currently planning the website's second major redesign in six months.
Has The News Lens become the cultural sensation that Buzzfeed and the Huffington Post have? Sort of. Chung and Yang receive fan mail on a daily basis from readers who love the fresh take on Taiwanese media and want to learn who's behind this website that came out of nowhere. At the same time, many of the readers who share The News Lens' articles on Facebook are probably not even aware of its existence. They just read a cool article about professional networking, or studying abroad, and posted it on social media. That's just the way Chung and Yang like it.
"We don't want to be a big media monster that blasts you with ads every day in newspapers or on TV. We'd rather be like a friendly girl next door – you lift up your head, there happens to be a screen nearby, and we tell you something important that happened today. We don't want to be in-your-face, but we want to be always there. And if you don't like us or don't want to watch us, that's okay too."
(Images via Facebook)
See: 10 great co-working spaces in Taiwan