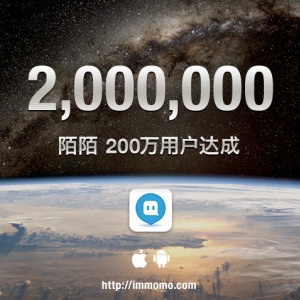 The location-based flirting app Momo, which we reviewed last December, has hit an impressive milestone – its user numbers have shot past the two million mark.
Momo allows people to chat – or hook up – with people nearby using its Android or iOS app, and it also allows you to filter by gender. From its launch in August, it zoomed to 500,000 users by December, and its current figure is 2.1 million. At this kind of rate it's picking up about 18,000 new users per day and actually accelerating. That's a pretty awesome uptake for a small startup.
To celebrate the achievement, the founder of the startup behind the app, Tang Yan, revealed that about 1.4 million of those people are on iPhones, while the remaining 600,000 or so are on Android [1]. That's an interesting little stat that contradicts the general trend of Android out-selling and out-browsing iOS in China. Plus, the Momo app apparently has a number of celebrity users, and has even brought about a number of marriages between couples who have met via its app. Which is sweet. Though if too many of its users were to marry each other, surely member numbers would go down!
The social app has a lot of competition in this sector, both from fellow startups doing very similar apps – such as Mix – and from some major Chinese web companies who are creeping slowly into this kind of service. For example, China's biggest group messaging app, Tencent Weixin, added a feature a while ago to find nearby people, which sort of cannibalized Momo's main function. But Momo and the other startups do it better and in a more focused way.
Find the apps on the Momo homepage.
[Source: 36kr – article in Chinese]
---
He was talking at the weekend, when the two million figure was hit. ↩