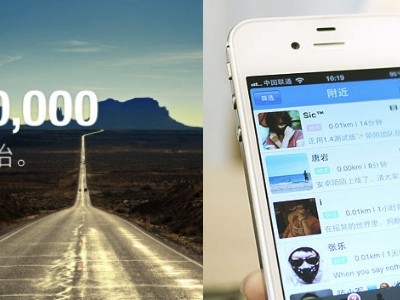 For a startup to go from zero to ten million users in the space of a year, and to have done so very organically, is impressive. And so Beijing-based Momo, makers of the flirtatious location-based app for chatting up nearby strangers, can be forgiven for getting all excited about hitting that dual milestone last night. On its official Sina Weibo page (see here), the Momo team said:
Today is the first anniversary of the Momo app coming online, and the number of [registered] users has reached 10 million. With just the iOS and Android apps there are 2.2 million active users everyday and over 40 million messages sent daily. On a particularly busy week we've seen five million active users.
We reported that the Momo app had reached two million registered users back in March, so it's apparently picking up new signups at the rate of over one million per month. It's one of several such find-and-flirt apps made in China, including the likes of Mojing and Youjia.
Get the Momo app for Android or iOS from its homepage.
[UPDATED on August 5th: Marbridge Consulting is reporting a rumor that the startup company behind the app, Momo Tech, is lining up a massive second round of funding. Its first round was worth US$2.5 million and was led by Matrix Partners]