This post is a part of our coverage of Startups in Asia (Singapore), Penn Olson's first tech conference. Our full coverage of the event can be found here, for our RSS feed, click here.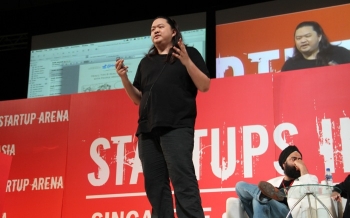 Mocku.ps is a Singapore-based startup that aims to make the lives of designers and their clients easier by streamlining the process of sharing designs. Aen Tan (Mocku.ps founder and a career designer) took the stage this afternoon to pitch his startup to the panel of judges.
Traditionally, a designer would simply email a design image to a client; however, Aen says this isn't an ideal solution for several reasons. First, the image appears on its own, not as it would appear in the context of a larger design that might, for example, include background images. It also doesn't allow the designer to tag aspects of the design with an explanation, question, or comment.
Mocku.ps aims to fix this by providing a free online platform that designers can upload their designs to. Visiting mocku.ps automatically generates a unique URL, and then prompts the designer to upload their design and background images (if applicable), assign alignment of images, etc. Once that's done and the design is arranged properly, the user can click and drag to highlight areas of the design and add comments explaining the intention behind it, posing questions, etc.
It's a slick-looking service, but at present, its functionality is limited. Luckily, in the near future, Mocku.ps's services will be expanding to include conversations in comments, hotspot links to facilitate showing off the design of an entire website, totally private mockups (at present all mockups are public, though they're accessed via randomly-generated URLs, much like notepad.cc notes).
Since the service launched 8 weeks ago, users have uploaded over 8,000 mockups and the service has even attracted praise from some high-profile designers. The company eventually plans to monetize using a pro version that will include folders, slideshows, and additional options for a monthly subscription fee.
Mocku.ps looks like a useful tool for graphic designers and their clients, and a fun way to work collaboratively on visual projects. It's got a fair number of competitors out there, but its team is confident they've hit the sweet spot where simple and accurate meet, which they say will help them rise above the competition. The judges held presenter Aen's feet to the fire, though, questioning the size of the product's potential market and whether or not people will be willing to pay for it.
Here is the mocku.ps slide presentation: