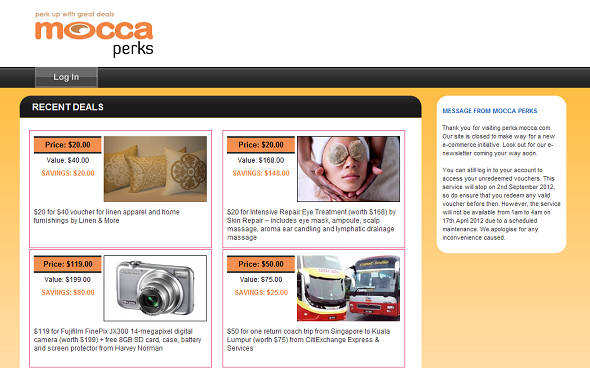 Bet you didn't know that MediaCorp, Singapore's largest broadcaster, had a daily deals site of their own. Well, we just found out about it today, and it is shutting down.
It's called Mocca Perks, and it offers anything from beauty treatment to digital cameras. SGE was notified about their impending shut-down by a friend over at BoxinBlue.com, who received a message from them via email.
The same notification has gone up on their website, stating that the site is closed "to make way for a new e-commerce initiative". We don't know what the new venture is yet.
All unredeemed vouchers must be claimed by 2nd September 2012.
It's somewhat surprising that their daily deals offering has gone nowhere, despite the financial muscle they have. Their Mocca Perks ads have been seen on Today newspaper, Singapore's largest daily, with a circulation of around 677,000.
Which goes to show that simply throwing money and marketing into a new venture isn't going to bring much returns if execution isn't well done.
The closure of their daily deals offering follows about a month after the shutdown of the Mocca main site, which is their attempt at online classifieds.