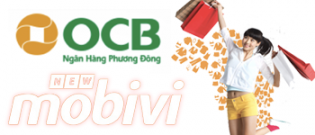 Everybody in Vietnam knows that cash-on-delivery is the name of the e-commerce game. Although online payments are improving and developing a bit with the recent acquisition of Ngan Luong by MOL, e-payments haven't gained much steam in the country. Some have cited the reluctance of Vietnamese merchants to accept credit cards, others have cited the greater ease of using cash. Either way, it's been difficult for online payments to catch on, thus it's been difficult for novel online models like online education and software-as-a-service (SaaS) to catch on. If I can't pay for something without having to do an offline transaction, what's the point?
Mobivi, which was founded in 2008 by Trung Dung, has been tackling this problem for a while now, and the debut of the new Employee Credit Card (ECC) today will be the startup's most significant online payment service yet.
Today, Mobivi is partnering up with Orient Commercial Bank to offer the ECC. Basically, the ECC is an online banking account that is tied to merchant services within Mobivi's network. The big perk is that participating companies can use ECC to pay their employees, so it works as a benefit package that companies can offer employees. This way, if I've got an ECC, it's really easy for me to buy products online, I can pay my bills, I can top up my mobile, I can pay for movies, I can pay for taxis, and pay for airplane tickets online.
The ECC package also allows customers to pay by credit installments of up to 30 to 50 percent of their monthly income. They don't have to pay that back for three to six months. That's a big leap over current payment models in Vietnam. Another thing ECC offers is that it allows customers to access their entire account online with direct access to merchants online. That means customers can buy online products (that are partnered with Mobivi) directly through their Mobivi account portal. Mobivi currently has over 300 merchants participating on their platform.
By the end of this year, Mobivi hopes to have 100,000 workers in Vietnam on this program. Trung tells us that the company has secured $10 to $20 million to cover the credit for this. This money comes not only from Mobivi but also three main investors: Experian (to the sum of $4 million), Kusto Tiger Fund Private, and Unitus Impact. ECC is not a package that is currently offered to individuals as Mobivi's current business model is to work with larger Vietnamese businesses, something which is more easily scalable.
By going for an employee-only benefits package, Mobivi hopes to avoid dealing with mass market consumer issues like convincing individuals to use the product and marketing it heavily. Thus, by going from business to business, Mobivi will slowly be able to integrate ECC across a large, country-wide workforce. And add to this, Mobivi's growing network of merchants, it's possible they've cracked the formula for getting more people paying online and with credit.
Besides ECC, Mobivi's other services includes CCC, a corporate credit card, which allows businesses to buy things like office supplies for their company. The company currently has over 140 employees.