Spencer Ng is a client service associate director at TNS – a global market research firm. He is interested in anything mobile and currently runs Mobile Behave (A smartphone usage metering program) in key Asian markets. You can email him to find out more about the program.
---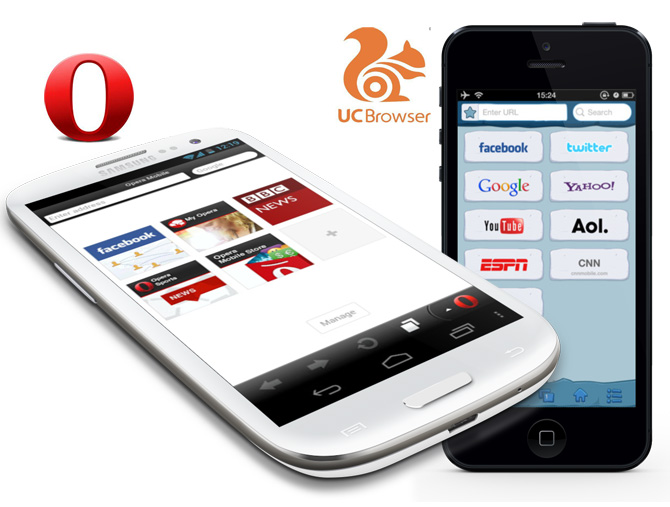 While Microsoft's Internet Explorer, Firefox, and Google's Chrome continue to slug it out on the desktop web browser front, mobile is a different story altogether. As smartphones continue to spread across Asia, the likes of UC browser and Opera have surfaced as key apps dominating the browsing experience on mobile.
While some of us might stick to the built-in browser that comes with our smartphones, what works on desktop may feel clunky on mobile, so more and more people are turning to a browser that is optimized for mobile, such as UC Browser or Opera. TNS Mobile Behave data 1 suggests higher browsing activity on mobile app browsers as opposed to built-in browsers in Asia. In China for example, where Android smartphones account for a majority of the market share, the average time spent on the built-in browser is 4 minutes compared to over 14 minutes daily on UC browser alone.
And UC Browser, with its claimed 400-million user-base, is not the only app in the market driving users away from default, built-in browsers. QQ Browser also attracts substantial facetime on Android in China and accounts for over 10 minutes of time spent daily on average.
In India, where Symbian on feature phones and basic touchscreens still has a stronghold, users spend an average of 37 minutes each day on UC Browser alone. In fact, the only app that surpasses it is Whatsapp, which accounts for more than 1 hour of usage time each day (but it isn't a browser, of course).
In Indonesia, Opera Mini is the dominant player. Opera software states that Indonesia is now their second-largest market for mobile ad impressions. It is the only browser amongst the top 10 apps 2 on TNS' Android panel in Indonesia and is also one of the most regularly-used apps. On average, the app is accessed seven times daily, with each session lasting over two minutes.
While surplus of choice is obviously a boon for consumers (especially since these browsers are free), it is becoming crucial for advertisers to understand the implications of this for marketing tactics and business growth. Browsers have collected a huge amount of user data from sites browsed within the app – this drives the optimization of mobile advertising inventory across their ad networks. Clearly, browsers are becoming a place to drive visibility of your brand or product for consumers on the go.
For mobile app browsers, it's anybody's guess which one would emerge as the victor in Asia. Clearly, different players dominate different countries and they will inevitably ride on the coat-tails of the rapidly changing smartphone landscape. No single market is the same. Understanding consumer profiles and usage in each market (and on each OS) will be key in determining which mobile app browser can monetize better and extend their influence further across the browser ecosystem.