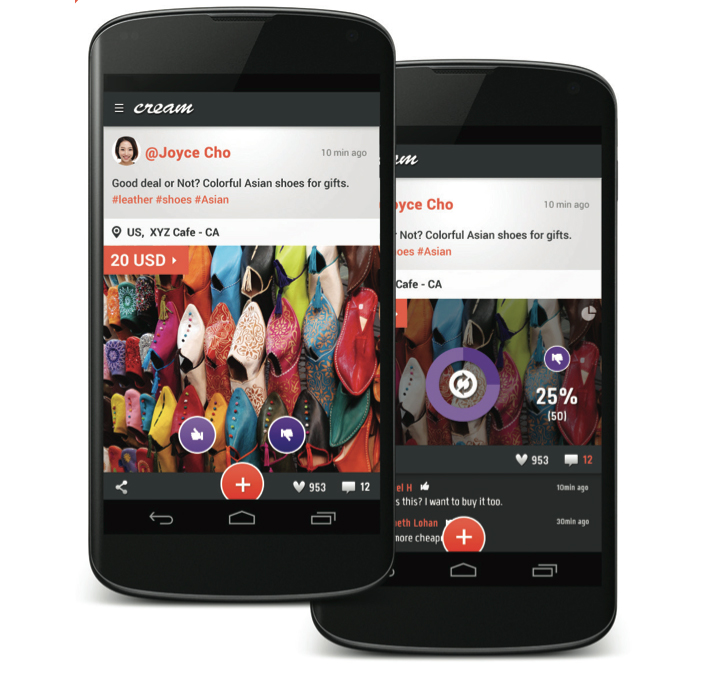 Founded by Hajime Hirose (CEO), Yosuke Kimoto (CTO), Yoko Aoyama (Chief UX Officer), Cream aims to become the "Waze for real-time pricing data." Or in my own words, the Jelly for pricing data.
Using it is simple: snap a picture of a product, enter the price listed in the shop, and let Cream's community tell you if you are getting a good deal. Cream community members will have two buttons to press, either good deal or bad deal for each photo-question sent to them. Cream officially launched on Google Play today with the iOS version following up soon.
Together with its launch, the startup also revealed that it has received an undisclosed amount of seed investment from CyberAgent Ventures.
Hajime Hirose, CEO at Cream, explained more about his product:
We want to create something like Quora for mobile but make it a lot more simplified so we can utilize everyday people's knowledge on a global scale. That's why we focus on elements that makes sense to everybody; photo, price – with currency converter and location.
Made up of Japanese founders, the startup is interestingly based in Kuala Lumpur, Malaysia. Hirose explained that being in Malaysia gives Cream access to other Southeast Asia countries. "We want to target this emerging and exciting market and we want to be in it," he explained. Plus, Malaysia allows 100 percent foreign-owned companies, which makes it easier to import foreign talents and get them a working permit. Singapore provides the same benefits but the cost of living isn't as startup friendly unfortunately.
"We will be targeting the English speaking communities in the region first, who are young, tech. savvy, like to shop, like to explore and expand their horizon," said Hirose.
Some of Cream's features resemble Twitter co-Founder Biz Stone's Jelly. But Hirose said his app was published on Google Play before Jelly, and that it has been running on closed-beta mode since December last year. "I agree that Jelly shares many of the same concepts like photo-questions, crowdsourcing, etc […] but no, even we cannot copy this fast," he said.