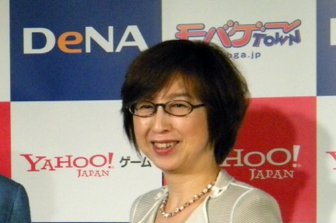 Japanese mobile social network and social game company DeNA announced today that it would undergo corporate restructuring as Tomoko Namba, the company's Representative Director, President, and CEO is to retire from those positions on June 25th. According to DeNA's statement, her decision is "partly influenced by her
need to address family health concerns, which are impacting her ability to continue to
serve as CEO."
Namba, who is 49 years old, will remain on the board of directors and will still be involved in business decisions. In her place will be the company's COO Isao Moriyasu who Namba describes as the best candidate to guide DeNA forward:
I strongly believe he will be able to act quickly and decisively in this rapidly
changing industry, to grow our billion-dollar company while making it truly global
At the recent Global Mobile Internet Conference in Beijing, China, we had a chance to hear Moriyasu talk about DeNA's vision to use its game platform to pool users across the world. It will be interesting to watch where he takes the company in the near future.
[Photo: Impress]