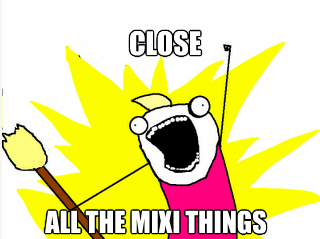 With Facebook still on the rise in Japan, things are only going to get tougher for domestic social network Mixi (TYO:2121). And while the company has been making efforts to adjust to the changing internet climate, today the company announced that it will fold two such efforts.
We previously wrote about the company's subscription commerce initiative Petite Jete, a members only fashion site that charged young women a fee to receive selected items of clothing by mail each month. Mixi had limited the membership to 1,000 users at the beginning, but regrettably they didn't have to worry about surplus demand, and IT Media reports that the service only mustered a few hundred users.
The other Mixi property that will close is smartphone avatar community Mixi Park. That service was opened last September in cooperation with Konami (NYSE:KNM) 1, who planned to use it as a platform for games. But like Petite Jete, this venture didn't quite go as expected, and the users accumulated were far less than originally hoped (although specific numbers were not disclosed).
Mixi Park will stop selling its Premium P Coin virtual currency at the end of January, and close the service entirely on March 31. On April 1st, they will refund remaining virtual currency to users. More details are posted on the service's app pages (iOS, Android).