Right after his graduation, a young and passionate Minh 'Gooseman' Le joined Valve to continue his work on Counter-Strike related projects, after those had made him and his nickname legendary around the world. But after seeing his ideas being put on the shelf one too many times, Le decided it was time to leave and focus on his own projects instead. A couple of years later the first version of Tactical Intervention surfaced and rumors about Le's newest project slowly started spreading. He continued to work on Tactical Intervention for the following years, programming his ideas in the Source engine on his own and occasionally showing it off to friends for feedback. The game has been in development for nine years now and might soon see the light of day.
I sat down with Le to look back at his journey and struggles as an indie game developer, balancing fan's desires with his own vision, and how he remained motivated throughout the entire journey.
Going down the indie path
Developing Tactical Intervention has taken an impressive physical and financial toll on Le. Not only did he fund the the project initially, but even now Le spends nights at the Fix Korea office on a fold-out bed surrounded by fitness equipment.
At that time Minh had spent a little more than $1.5 million dollars of his own money on the project. "After I burned through that, I partnered with Fix Korea hoping to secure more funding," Le says. He left his home in Canada and moved to Korea after meeting Fix Korea's CEO Inho Choi, to whom he successfully pitched Tactical Intervention. "I really liked the game, but had no idea Minh was such a popular developer," Choi admits.
Despite the hardship, Le seems to radiate more energy than ever. He explains:
Seeing the project come together and start to resemble the vision I had when I started it keeps me constantly motivated. Being able to play it with others is a big motivational tool as it lets me see what features are working. The fact that I've invested so much time and money in the project keeps me interested in finishing it too. I've accrued a huge debt over the last 7 years.
The personal struggle Le has faced, together with hard work of the small rag tag team of developers trying to turn his vision into the next FPS hit, gives the project a strong indie vibe. "I'd definitely say it's an indie title," Le concurs. "For the majority of the development we haven't been properly funded. The initial four years were financed from my personal savings."
Dogs and car chases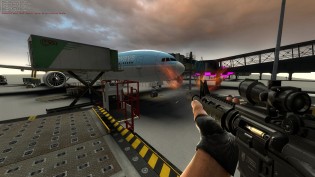 Looking up interviews with Le on Google brings forth several results and videos where he demonstrates Tactical Intervention's features and mechanics. The featured car chase missions have gotten so much attention that it seems to have become the sole focus for many among the game's online community. It's something that brings Le both a feeling of happiness, and bit of a dilemma.
They now want more car-based missions. So I'm also looking into ways to make the non car chase missions more enjoyable. It's like introducing two girls, one is super hot, and the other one is average looking. I want to make the average looking girl a bit more attractive.
Le and his team spent quite some time weighing the game community's demand for content and their own design goals. "It's going to be a fine balancing act I think," Le agrees.
It's important not to succumb too much to user demand as we may run the risk of diluting the game experience and straying away from the core mechanics which make it unique and enjoyable. Our publisher has been super great about working with us to keep the game fun and balanced at the cost of possibly making more money right off the bat.

I really wanted to improve the scenarios I thought were unsuccessful in Counter-Strike. As I felt that with a little bit of improvement game modes like the hostage scenario and the VIP escort could be significantly better.
This desire to do things better and challenge himself is the drive that currently still keeps Le completely dedicated to development of Tactical Intervention.
"It's crucial to constantly test your game as early as possible," he says.
Playtesting with a diverse group of players allows you to make corrections to the gameplay before you spend too much time polishing a feature that isn't even good to begin with. Rapid prototyping allows developers to spot flaws in your game design early, thus saving precious development time. Unfortunately with the nature of TI's development and various other factors we were limited in our testing environment which resulted in a sluggish development time.
The resulting data still kept the game from being officially released and has given Le a major list of bugs and fixes that he is still implementing and working on with his team.
Reinforcements have arrived
Ben Kleber, currently responsible for level design and environment art at Fix Korea, joined Minh's team in 2008.
I was 23, still in college, but they offered me the position of level designer for Tactical Intervention and I couldn't refuse.
After a month of working on Tactical Intervention in Korea, Kleber continued working from home in Germany. On February 23 February 2012, he flew over again and has been working on TI full-time ever since.
Kleber's proudest contribution is a map to be released in the game after the closed beta.
I'm just really looking forward to actually see people play it. That would make me very proud. The map is based on the Korean Gyeongbokgung palace I visited when I was here the last time. Everyone thinks it's Japanese, but it's Korean architecture.
Kleber's most recent contribution, an airport-themed map for the game, is still under construction and is to be fully completed for testing soon. The next couple of months the entire team is remaining in crunch mode, gathering as much player feedback as possible and using every bit to fix any bug they find.
Tactical Intervention was planned to be released in spring of this year, but like many indie developers, Minh Le and his team have had their share of problems and the need to find funding to keep the project alive. "We're shooting for a fall/winter release now," Le says.
We spent the last few months restructuring the backend portion of our game, smoothing out our the server structure and lobby system. Ben [Kleber] and our second level designer have begun work on new levels and I've also had some time to work on a new level as well as some new graphics.
Tactical Intervention is now looking better than ever. As much as Le's struggle to complete his vision strongly reflects that of a passionate indie developer, it is also keeping Tactical Intervention's horde of dedicated fans base eagerly waiting for the game's final release.