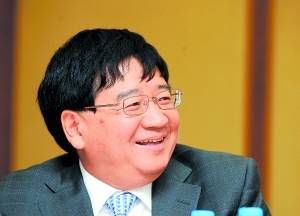 Chinese startups should all have heard of Xu Xiaoping; the New Oriental co-founder is one of China's highest-profile angel investors. But his mindset and his investment strategy are also part of what sets him aside from the pack. In a recent interview with the Beijing Daily, Xu spoke about his experience as an angel and how he does things differently.
He apparently got into angel investing thanks to a Chinese student who had returned from overseas and wanted to do an education startup. "I told him I didn't know anything about investing," Xu said, "but he said teacher Xu, you must invest, because in the past he had paid for classes at New Oriental." It's hard to imagine attracting angel investment is as easy as guilting the investor in question, but it looks like just this once, it worked.
Xu began investing in other startup projects, mostly because their founders were passionate and they hounded him. He says he even invested in startups he was positive would fail just because the founders were passionate and proactive. As you might imagine, he lost a lot of money this way, and he says that every year he vowed never to invest in a startup again, but then he would go back to Beijing and meet another passionate founder, and out came the checkbook again. Eventually, he started seeing returns, and as of today, he has invested in over 100 startups.
But Xu's methods for choosing who he invests in haven't changed much. It's still "love at first sight," as he puts it:
As far as whether or not I invest, I look at the quality of the individual, whether or not they're going to give me a headache. The model isn't the most important thing, the most important thing is the person.
OK, sure, but Xu does look into the company's financials and such too, right? Wrong:
I don't want [to do] any audits or investigations. When we [the founder and I] are talking, if I see passion, then generally I will invest.
That said, Xu did note that passion does need to be tempered at least a bit by rationality: "If an entrepreneur lacks logic and reason, then no matter how confident they are I won't invest," he said. Still, it's clear that Xu invests with his heart, which is kind of admirable even if it may not produce the best financial returns. The person, Xu says, is everything, and that means failure is just temporary:
I have been investing in startups for five years, and I've gained some experience. It's OK to fail at an endeavor, but you can't fail at being a person. If the entrepreneur doesn't lose heart, doesn't give up, then they can always be successful. The friends, family, investors, and partners around you will carry on with you. For example, there's Chen Ou from Meiyoupin; when he first sought me out to invest, he was doing advertisements inserted in video games, and that failed. But then he tried online cosmetics sales, and it blew up, and that's where Meiyoupin came from.
[Beijing Daily via Sina Tech, image via Sina Tech]