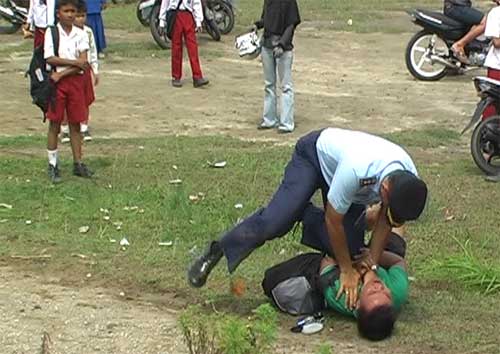 Last Tuesday, an Indonesian military Air Force jet crashed at a housing complex in Riau. Ironically, the injuries from that incident weren't caused by the crashed plane, but by violent conduct from military who were securing the premise. This made headlines all over Indonesia after it was recorded and published on YouTube.
The video shows a soldier doing a judo-style take down and choking a journalist. There were other abuses which took place as well, to both local residents and other journalists who were taking pictures of the plane crash.
In the soldiers' defence, they were securing the premise for public safety and also protecting classified information that could be leaked from the combat aircraft. But in the journalists' defence, they were just doing their job – reporting a plane crash that took place in a civilian neighborhood, and that they were protected by the Press Preedom Act [1].
The incident also spurred quite a debate on the YouTube. Some people defended soldiers' rights, considering their orders to secure the premise, but regretted that they used violence to do it. Some were equally displeased with both parties by calling them both arrogant; including the journalist who persisted on taking pictures. Others expressed disappointment that this violence happened in front of so many children. But the majority of those enraged by the incident blamed the soldiers.
In the end, The Jakarta Post cited Indonesian military commander admiral Agus Suhartono today as saying that he apologized for the assaults conducted by his subordinates. This is after numerous journalism associations across the country subsequently staged protests. The military promises to officially investigate the matter.
This is not the only moment that the Indonesian military displayed more arrogance than it ought to. The recent "Palmerah Koboy" incident saw a soldier use his gun and baton to intimidate and assault a biker at Palmerah area, over a routine traffic dispute. It was captured and published on YouTube, and has been viewed more than 685,000 times.
Now that Kompas is also promoting citizen journalism with its K-Report app for Blackberry, any arrogance and violence by the authorities can now be easily reported and published for the world to see. Authorities will likely (and hopefully) think twice before acting in this manner in the future.
---
The Jakarta Post cites Article 4 of the 1999 Press Act which states: "Freedom of the press is guaranteed as a basic right of the citizens… Toward the national press, there shall be no censorship, banning, or broadcasting prohibition."  ↩
[Source: Jakarta Globe via Sidomi, image: atjehpost.com]