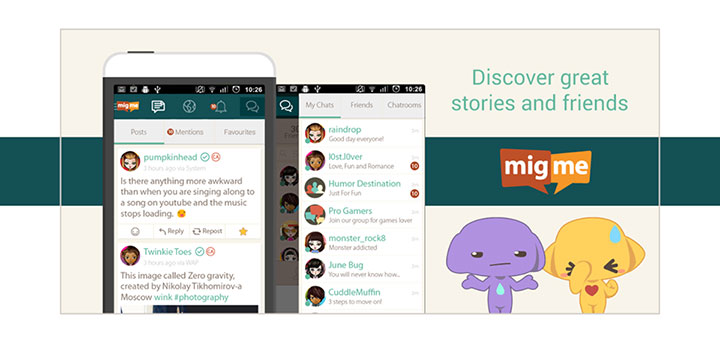 Remember mig33? It is a Singapore-based microblogging company which recently changed its name to migme (ASX:MIG). Just last week, migme debuted as a publicly traded stock on the Australian Stock Exchange. And today, migme announced that it has tied a deal with three big handset players in Indonesia, which the company claims gives migme "access to more than half of [Indonesia's] new smartphone shipments."
To put things into perspective, Indonesia currently has about 270 million mobile phone users, with over 41 million of them owning a smartphone device (mostly Android). According to WeAreSocial, there are 52 million monthly active mobile social users in the country. Migme itself has over five million monthly active users.
The partnership would entail the partners to either preinstall or sideload migme's app onto the new smartphone shipments for Indonesia. This will come into effect starting December 2014. The three partners are telco and handset manufacturer Smartfren, regional telecommunications provider Spice Global (which owns Indonesia's smartphone brand Nexian), and retail distributor Trikomsel. These partners will receive some portion of revenue generated from migme's in-app purchases.
"Unique to migme [is the fact that] we can track the value of virtual goods, services, and advertising used on the migme platform per device, and reward our partners with a revenue share," says CEO Steven Goh, "This is a great differentiator in an otherwise highly competitive and low margin handset landscape."
See: Mig33 acquires Alivenotdead, a site started by Rotten Tomatoes founders
3 partners
Smartfren's smartphone brand Andromax is very popular in Indonesia. The company managed to sell 1.2 million Andromax devices throughout 2013. According to IDC, Andromax was Indonesia's biggest smartphone brand in terms of shipments in Q4 2013. Partner Trikomsel is one of Indonesia's largest handset distribution channels with 1,200 retail stores spread across the country.
It's a different story when it comes to the other partner Nexian though. Although the handset manufacturer was widely popular a few years back, it hasn't reached the same success in the last two years. Good news is parent company Spice Group wants to revive the brand with a $40 million invesment.
Migme's handset reach may not stop here as electronics manufacturing giant Foxconn has a stake in the company. Headquartered in Singapore, migme also has offices in Indonesia, Malaysia, and Hong Kong. The company will establish a team in Taipei this quarter.