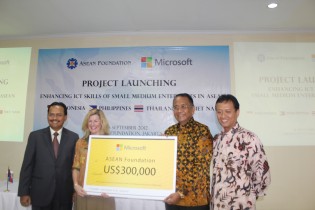 The youth unemployment rate in Asia is an important matter for all generations. The International Labor Organization has released a study entitled "Global Employment Outlook: Bleak Labour Market Prospects for Youth" and it details this increasingly serious problem. It's predicted that the number of unemployed youths in the Southeast Asia and Pacific region will climb from 13.1 percent in 2012 to 14.2 percent in 2017. To remedy this problem, the ASEAN Foundation sees information and communication technology (or ICT) as a solution. On May 18, 2012, Microsoft (NASDAQ:MSFT) came on board with a $300,000 grant to fund ICT-related activities covering four ASEAN countries, namely Indonesia, Thailand, the Philippines, and Vietnam until mid 2014.
Today, the ASEAN Foundation announced the implementation of the fund with ICT training programs for small- and medium-sized enterprises (SMEs). This program is aimed at young entrepreneurs, aged 16 to 25, who will receive training focused on the latest ICT skill-sets that may be used for their business development. This pilot project will run for two years, hoping to reach more than 20,000 young entrepreneurs.
This program is aimed at helping youth develop a knowledge of e-commerce and web business, and provide business and technical skills to raise their potential. The ASEAN Foundation developed a specific ICT curriculum for this training. To spread the training to targeted regions, it will conduct a 'Training of Trainers.'
Young and talented entrepreneurs will be chosen to join its e-business incubation program. West Sumatra, west Java (Bandung), north Sulawesi, and west Nusa Tenggara are the provinces selected for the program in Indonesia with help from SOS Children Villages Indonesia. In other nations, Bangkok and Chiang Mai will host the program in Thailand; Manila for the Philippines; and Hanoi for Vietnam.
The executive director of the ASEAN Foundation, Dr. Makarim Wibisono, stated that the vision of the ICT training program is not only to promote growth and competition among micro-entrepreneurs in Indonesia, the Philippines, Thailand, and Vietnam, but its success will impact the region as a whole. Dr. Wibisono added:
Through our collaboration with Microsoft, the ASEAN Foundation will be able to help communities throughout the region to realize greater opportunities through improved access to information technology.
The ASEAN Foundation partnership with Microsoft begun in 2005 in order to develop an ICT curriculum for farmers training in villages. It also provided ICT training for SMEs and reached more than 50,000 people in Indonesia. The president of Microsoft Asia Pacific, Tracey Fellows explained in today's announcement that this year's ICT training for SMEs is the first for Microsoft in the region:
SMEs are the backbone of most countries in the region. Through this partnership, we want to empower young people to start their own businesses or creating their own opportunities. This assistance reflects our confidence in the ability of technology to improve the standard of living as well as social and economic development in each country.
Microsoft Indonesia first provided a $39,500 grant for an ICT training program back in August 2005 as it begun its partnership with ASEAN Foundation. Now the amount has grown to $300,000 with Microsoft's local involvement, and expanded it to four ASEAN countries. With this fund, let's hope more local startups will blossom with this kind of sustainable funding.