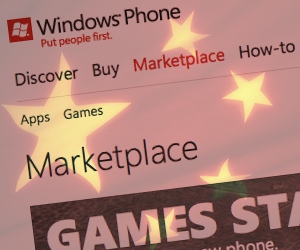 Microsoft (NASDAQ:MSFT) has announced that app developers on its Windows Phone 7 (WP7) platform can now enable their apps and games to be distributed in China, Indonesia, Malaysia, the Philippines, Argentina, and Chile. The WP7 app store – called the Marketplace – doesn't yet support customers in those countries, but that looks likely to happen a bit later this year.
The news came via the official Windows Phone developers blog. By opening up the submission process early to these nations, it'll ensure that the Marketplace is full of apps once the virtual doors are opened to customers. A number of major Chinese web companies have already made WP7 versions of their apps – such as for Weibo, QQ, and the video-streaming site Tudou (NASDAQ:TUDO) – despite no WP7 phones having been officially launched in the country.
The Marketplace for WP7 hasn't yet launched in China, and currently shows the old and retired Windows Mobile 6 store.
But apps submitted for distribution in three of these new Asian markets – China, Indonesia, Malaysia – have one extra hurdle to leap. Microsoft's Todd Brix explains:
You should be aware that applications submitted to three of these six new markets – China, Indonesia and Malaysia – will be subject to additional requirements due to local laws, regulations or norms.
Delving into the WP 'content policies' pages reveals five extra areas where Microsoft's approval process – following the Apple (NASDAQ:AAPL) style 'walled garden' approach, in contrast to Google's (NASDAQ:GOOG) freer method with Android apps – will be more strict in the region. They are:
People in revealing clothing or sexually suggestive poses

Religious references

Alcohol references

Sexual or bathroom humor

Simulated or actual gambling
Presumably, Microsoft will also have to bend to the political sensitivities of Chinese authorities as well, which could mean that apps that contain controversial material here would also be nixed from the China version of the Marketplace.
Look out for the next stage of this roll-out – actual support for customers in China, Indonesia, Malaysia and the Philippines – in the coming weeks or months. And then there'll be the question of WP7 handsets launching in those markets, such as rumored ones from Nokia (HEL:NOK1V; NYSE:NOK) and Lenovo (HKG:0992) as well.
[Source: Windows Phone developer blog; via Engadget Mobile]