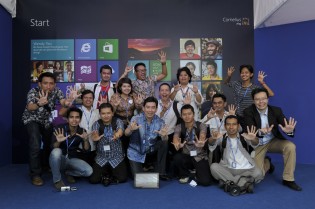 There has been much buzz around Microsoft (NASDAQ:MSFT) Windows 8. Yesterday we reported that Chinese stores started selling the Microsoft Surface RT early. Today, both Windows 8 and Windows 8 Pro versions will be available at major retail sales partners around the Asia Pacific region, and users in 17 Asian markets can access apps in the Windows Store.
Playing around with Windows 8 at yesterday's launch event (see the demo video below) in Singapore's Esplanade Mall, the whole OS looks impressive. It'll take any tech-oriented early adopter and a minimal amount of time and effort to understand the new tiles UI – even on a conventional laptop with no touchscreen. Of course, Windows 8 also blurs the line between a laptop and a tablet. Speaking at the launch event, Tracey Fellows, president of Microsoft Asia Pacific, emphasizes that with Windows 8, it is unveiling a reimagined Windows to the world:
Whether you want to consume or create, whether you want to work or play, Windows 8 delivers a no-compromise computing experience. You no longer need to choose between the fun and convenience of a tablet and the power and productivity of a PC.
But not all early reviews have been positive, and some charge the new OS with being clumsy and confusing.
Being someone who is constantly on-the-go but prefers to type on a keyboard for serious work, I appreciate the flexibility that Windows 8 offers. The UX is pretty fast and fluid. On the 'start' screen, one can have easy access to apps that can be customized to your own preference. We also had the privilege of Barrie Ooi, product manager of Windows 8 for Microsoft Asia Pacific, giving us all a run through in the video below.
Also in attendance was Todd Cione, chief marketing and operating officer for Microsoft Asia Pacific, who revealed that there are 600 million Windows 7 users globally. A total of 16 million people were selected to test Windows 8, going back to one year ago. Todd claims there are a total of 185 million Windows users in Asia Pacific out of 1.4 billion Windows worldwide, and he firmly believes that there is a lot of room for Windows 8 in terms of adoption in the region.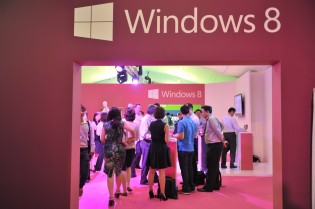 For users who currently have Windows XP, Windows Vista, or Windows 7 installed on their PCs, they're able to download Windows 8 Pro at $39.99 (if their computer meets the minimum requirement) through the end of January 2013. As for those Windows 7 PCs purchased between June 2, 2012 and January 31, 2013, those users can download Windows 8 at $14.99 via the Windows upgrade offer available here.