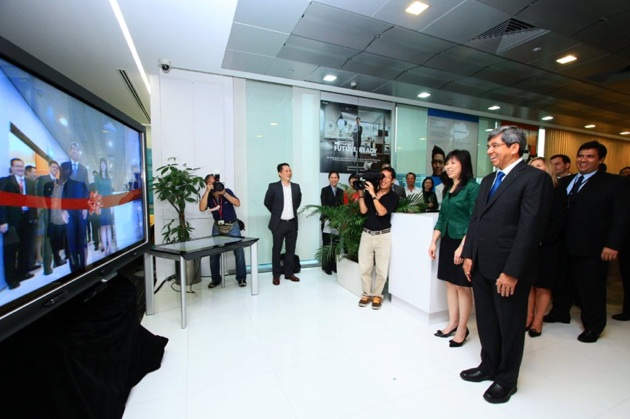 Today Microsoft (NASDAQ:MSFT) has opened the doors on its first-ever Microsoft Technology Centre (MTC) workspace in Southeast Asia, which sits at One Marina Boulevard in Singapore. The US company has promised it will invest S$23 million (US$14 million) over the next five years for running the centre.
[UPDATED on April 24th, 4 hours after publishing: Added photographs supplied by Microsoft of the ribbon-cutting ceremony (done virtually using a Kinect!) and more images of the MTC facilities].
The new Singapore MTC – much like ones in New York or Beijing – is a place for collaborative workshops for Microsoft customers, where they can engage with MTC staff in briefings, sessions, and other technical courses. The Singapore MTC features, Microsoft tells us, an interactive zone, two development suites, an executive briefing centre, an envisioning centre, a consumer experience space, a server display wall, a device wall, and a partner solutions wall. With all those walls, I hope there are plenty of Windows. (Sorry). The idea behind these spaces – there are now 27 worldwide – is that third-party developers – across both desktop, mobile, and cloud services – get to work closely with the company. Jessica Tan, Microsoft Singapore's MD, explained the attraction:
The 'experience first' approach is a key differentiator for MTC, allowing our customers to 'see, discuss and try"'before organisations incur actual costs in implementing scenarios. We believe it will make a huge difference to organisations, to enable the adoption of cutting-edge technologies at their own pace while saving time and money in the process.
At the ribbon-cutting ceremony earlier this morning, Singapore's Minister for Information, Communications and the Arts, Dr. Yaacob Ibrahim (pictured above, and in the photo below this), opened the facility, alongside Ms. Tan. An accompanying press release says that, pretty soon, "Microsoft also plans to include made-in-Singapore innovations [in its MTC] to provide greater exposure to local software companies."
In addition to the new space, Microsoft highlighted how it has "invested over S$4.7 billion in Singapore" since 1990. Some local tech companies and startups have already received tours of the new 7,000 square feet MTC, which is in the high-rise known locally as the NTUC building. If you want to drop in and take a look, here's the centre's new page on the MTC minisite.