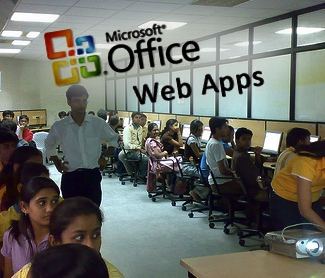 Microsoft (NASDAQ:MSFT) has won a major contract from Indian authorities that will see its cloud computing services, such as Microsoft Office Web Apps, used in more than 10,000 technical colleges and educational institutes throughout India.
The win for the Microsoft Live@edu package came over rival offers from IBM and Google, and will be implemented in the coming three months. The All India Council for Technical Education (AICTE) board oversees more than 7 million students and nearly 500,000 faculty members in India. The deal – of which no financial terms have been revealed – makes AICTE into Microsoft's largest cloud customer to date. The company already has over 10,000 schools on board around the world.
All the Indian tech college students and their teachers will have a whole bunch of new web apps to learn, such as MSN instant-messaging, Microsoft Exchange online email and calendars, SharePoint, Lync, and 25GB of SkyDrive file storage. Plus, Microsoft Office 365 for education will be rolled-out later this year when it launches. It's essentially all the stuff that the youngsters will encounter a couple of years later when they're out in the workplace.
Dr. S. S. Mantha, chairman of AICTE, said in a press release issued jointly with Microsoft:
Microsoft's cloud platform will make for a truly progressive ecosystem and contribute to the country's technical education by providing a better communication and collaboration platform for institutes and students.
The statement also lauded "Microsoft's comprehensive commitment to education across all the company's products and programmes" as partly the reason for it not choosing Google Apps or IBM's solution. Its search engine rival does actually have specialist Google Apps for Education to offer, but it didn't make the grade this time round.
Microsoft India's managing director, Sanket Akerkar, welcomed the new project, and said that such a platform given to the youngsters could "empower not just teachers and students but collectively India as a nation."
Deployment of all those Live@edu web apps is expected to be done by this summer.