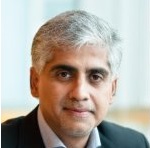 Singaporean Haresh Khoobchandani, a Microsoft veteran, is now in charge of operations in Thailand, a company press released announced. The new managing director of Microsoft Thailand is replacing Birathon Kasemsri Na Ayudhaya.
Haresh has over 15 years of experience in the company. Before his current appointment, he was the COO for Microsoft Indonesia, where he helped the subsidiary achieve over 30% growth. He was also the CMO for the Asia Pacific Consumer & Online business, as well as Senior Director for various portfolios across Singapore, Malaysia, and Asia Pacific.
He is said to possess a strong track record in sales, marketing, and leadership of large teams.
Haresh's predecessor, Birathon, set the vision of Microsoft Thailand to improve the lives of 70 million citizens through technology.
He helped the subsidiary win a CSR award from the American Chamber of Commerce in Thailand. It was recognized for the BETTER project, which raised IT literacy among the Thai workforce, and for rallying customers, partners, and employees to help the country recover from the flood crisis.
Birathon was also in charge of the Windows 8 launch in Thailand.