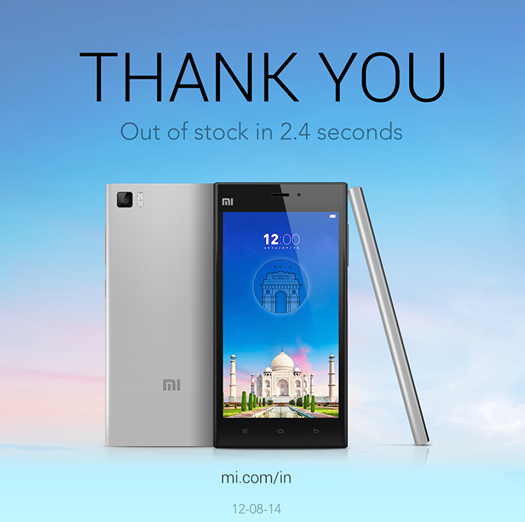 Xiaomi appeared out of nowhere and grabbed India by the throat, and the country is usually not too welcoming of Chinese products and OEMs. Interestingly, Xiaomi doesn't even call itself by that name in India. It's simply 'Mi'.
Business started for Xiaomi in India on 15 July, when the China-based phone maker first accepted registrations for the Mi 3, the company's flagship phone. A week later, the Mi 3 went on sale in India for the first time, selling out in a shade under 40 minutes.
But more was to come.
The second 'flash sale' that Xiaomi planned for India took place on 29 July, causing the servers of Xiaomi's online retail partner Flipkart to crash yet again. Given that Flipkart is among the top, if not the top, ecommerce players in India, this was something Xiaomi could afford to be proud of.
In contrast to Xiaomi's usual policies, the company did not reveal how many units it had put up for sale for the first two rounds of the flash sale, causing extreme reactions from the internet-savvy Indian lot.
Xiaomi patched up the holes and announced that the August 5 and August 12 sales respectively saw a total of 35,000 units of the Mi 3 being sold in India (15,000 + 20,000), giving buyers some much needed respite in the form of numbers.
True to form, the Mi 3 went out of stock yet again in a matter of 2.4 seconds on August 12.

Mi India update: 20,000 Mi 3 units out of stock in 2.4 secs @Flipkart @MiIndiaOfficial

— Hugo Barra (@hbarra) August 12, 2014
What makes the Mi 3 this hot?
Well, this isn't going to be too difficult. The Mi 3 goes for a flat price of INR13,999 (US$229) in India, which includes shipping to the buyer's doorstep. To top it all, Flipkart also accepts payments against cash on delivery (COD), a mode that's massively popular among the non-credit card section of consumers in India.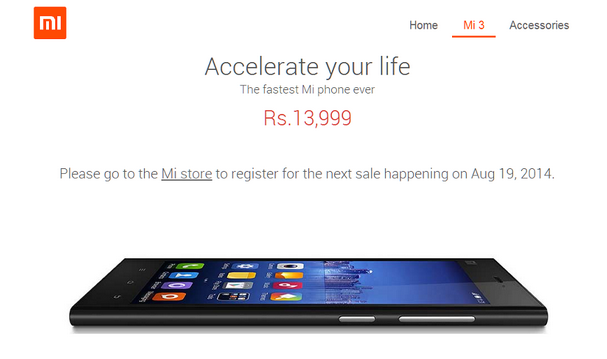 To give you an idea of how the Mi 3 fares against the competition, take this – at INR13,999, the Mi 3 is the most affordable Snapdragon 800 powered smartphone in India. Other similarly spec'd phones, such as the Google Nexus 5 and the LG G2 go for about double or more of the cost of the Mi 3, which in itself should tell you why it has gotten as popular as it is.
Moreover, the phone-on-contract model never really pick up in India, which meant consumers pay the full cost of the phone upfront. Having one that's within reach of the masses is what has worked for Xiaomi, something the Motorola Moto G achieved as well, but all that's history now.
Two of Xiaomi's most high-profile executives, Hugo Barra and Bin Lin, have been interacting with the Indian junta not only via their social feeds, but also with meetups and gatherings. Barra recently hosted an impromptu fan meetup in Bangalore that saw a 45-member strong attendance on short notice.
India, Xiaomi's second home?
To say that India could be Xiaomi's second home isn't unfair. After all, the company operates in a host of other markets including Malaysia, Singapore, Hong Kong, Taiwan and of course, China, but few of them matched up to India's performance.
Even after four sales rounds, Xiaomi Mi 3 hopefuls in India are left wanting. In a recent interview with Digit, Barra revealed its latest phone the Mi 4 would be launched in India by the end of this year, and that his goal is for "India to be together with China and all other key markets."
Indian consumers will soon get special treatment in the form of localized products. Barra told The Next Web that Xiaomi will set up an R&D center in the country: "India is going to be the market where we really, really put our money where the mouth is. That's going to be the first market where we really put a lot of effort into building truly localized services, including things we may not do for any other market because it only makes sense in India."
Given the similarities between the Indian and Chinese markets, it would surprise no one to see Xiaomi focus more on India than the smaller markets it operates in.
Take all the private data you want, get me the damn phone
A security firm has claimed that Xiaomi's phones hsent sensitive user information back to servers in China through its iMessage-like service. This apparently happened without the knowledge of users. Barra apologized and said that the company only collects phone numbers from users' address books.
Indian buyers appear unfazed however, and they still seem hellbent on being the first owners of the Mi 3 in the country. The sales numbers that the company generated even after the privacy scare stand testimony to that.
Not willing to ride its luck too much, Xiaomi recently released a software update that addressed the privacy issue, making Mi services opt-in rather than automatic. Phone numbers sent to Xiaomi would also be encrypted and no longer stored.