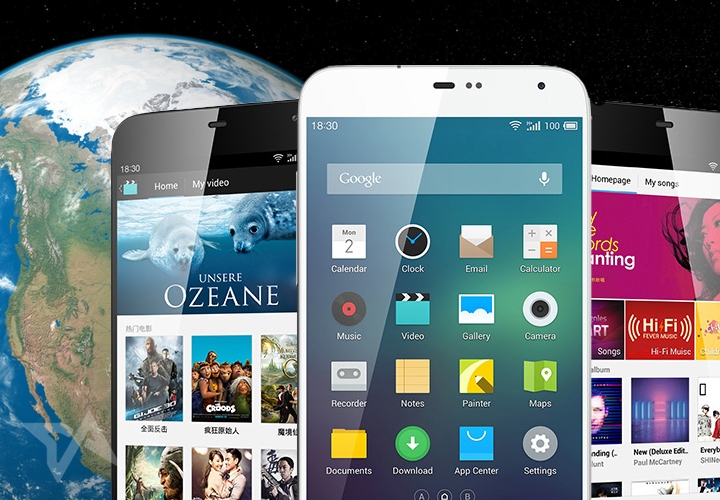 Chinese phone-maker Meizu made it clear at CES 2014 a few days back that it intends to launch in America later this year. That's a lot easier said than done, especially in such a tough and developed market as the States. In charge of the task is Sierra Ma, Meizu's head of international business.
Not only does she have to prep Meizu for a launch in Q3 in the US – the company is aiming at Europe first. That, Ma says, will be outlined in full next month when Meizu reveals precisely which European nations it will enter.
Meizu will take its current flagship, the MX3 with its 5.1 inch 1080p HD screen, into Europe. But by the time it lands on US soil in late summer of the fall, it'll be ready to launch with its next-gen phone, whatever that is it. Perhaps the MX4. Whatever its name, Ma confirms that it'll be the same next model that launches in China.
American phone industry is changing
Sierra Ma – and Meizu as a whole – is confident that the American phone industry is changing, and that US gadget buyers are now more open to off-contract (and unlocked) phones direct from manufacturers. That's untightening a strangle-hold by American telcos on consumers – and on phone brands themselves. Ma explains:
The US market trend is changing right now – changing from locked phones to unlocked phones.
However, she says there's a "high possibility that we'll go through an operator." That is, of course, if any US telco is willing to pick up and sell a new brand on-contract to its customers.
Meizu will offer both its own Flyme app store and the Google Play store, we're told, but its Flyme app store needs more work before it's ready for US consumers.
For Meizu, the art of persuasion lies in going high-end, bucking the notion that Chinese gadgets might be cheap and shoddy. "We need to raise the Meizu name in the US so people know we make high-end phones," Ma says.
30% cheaper than Samsung's best phones?
And so Meizu's plan is to promise consumers it can "simplify Android" with its own Android skin and ecosystem, which is called Flyme. That's on the software side. In terms of hardware, the plan is to play up the build quality and the top-line components. The Meizu MX3 has the same Samsung-made Exynos processor as the Samsung Galaxy S4, and its 8MP camera is made by Sony. Whatever specs the next-gen phone has, the phone-maker will go for quality again.
"We need to offer a reasonable price that's still quality," Ma says. So can Meizu take its US prices as low as in China, where the MX3 costs only RMB 2,199 ($361) unlocked? That's about half the price of the Samsung Galaxy S4 in an unlocked state. "We can't get down to China prices," she says of its US plans, but the company is aiming to be 30 percent cheaper than top-end Samsung phones with the same kind of specs.
New Chinese rivals emerging
Meizu not only has a lot of Chinese rivals on its home soil, but it'll also be encountering a few of them in Europe and the US.
Oppo is simultaneously going after Southeast Asia with cheap phones and Android geeks around the world with its new Oppo N1. That phone is notable not just for its 13MP swiveling camera, but also for the CyanogenMod OS special edition that comes with a version of the popular CyanogenMod installed. A splinter group of Oppo execs has formed another new brand in the form of OnePlus, which might be more of a threat to Meizu as it's also aiming at the high end, and will come with CyanogenMod's version of Android, which will be familiar to many Android enthusiasts. In contrast, Meizu's Flyme is all new to a global audience, and could be a tougher sell.
Let's not forget Xiaomi, which exploded onto the scene in 2011 and is now outselling Apple in China. While Xiaomi will expand to Singapore later this year, it appears unlikely the company is ready to venture into Europe and the US in 2014. Perhaps that's a battle to be fought in 2015.
From Russia with love
Ma insists that Meizu's experience overseas – it sells in Russia, Ukraine, Israel, and Saudi Arabia already – will help it in more developed markets. Plus, she says, Meizu will do it differently from its compatriot rivals by focusing on opening Meizu-branded stores, being very visible to consumers, and listening to its local partner in each country. "Meizu dedicates itself to localization," Ma says, and that goes some way to winning hearts. Other companies like Oppo, she claims, do things differently.
In Russia, for example, Meizu has partnered with local operator MegaFon for phone sales, and also sells unlocked devices via its shops in Moscow and St. Petersburg.
Meizu won't reveal any sales targets for its tough new markets or any past sales figures for China, but Ma says that Meizu is seeing 60 percent growth in its home nation.
(Editing by Terence Lee)