Somewhere in Singapore, a black building sits in an obscure industrial estate, accessible only to determined Singaporeans. It's not hard to spot though: it's the only building there that's painted black. Welcome to the home of Hope Technik, perhaps one of the most underrated tech companies in Singapore.
Founded and staffed by a group of hardware, software, and space engineers, the startup prides itself as a playground for tinkerers and geeks.
Sitting next to the entrance is an old-school roadster that is custom-built by a team member. A standard obstacle course – a dreaded thing among Singapore's army conscripts – occupies the front lawn, serving as a testing ground for Hope Technik's ground robots.
The company's ten commandments, which accosts visitors upon entering, stands out the most. The ninth commandment goes: "We learn from yesterday, live for today, hope for tomorrow." The second one reads: "We are engineering commandos. Small in number, strong in force".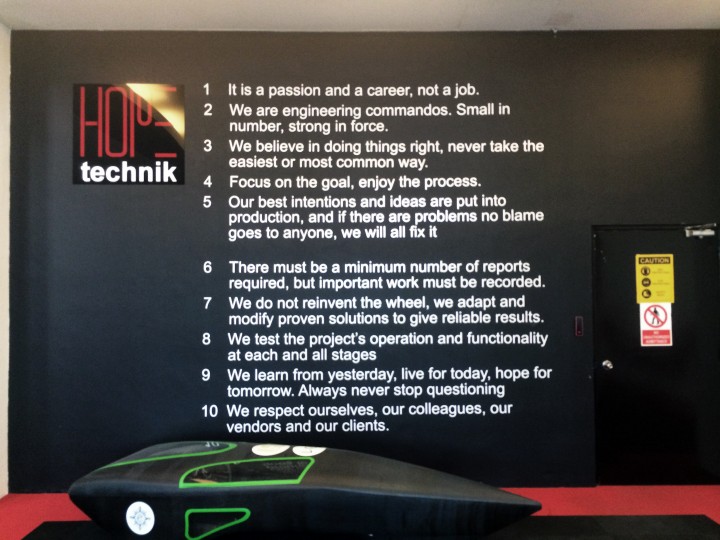 Real-life Tony Stark
Hope Technik, which now has 50 employees (over half are engineers), defies categorization. It designs and makes drones for clients, yet also does simple exterior design work on police cars and fire fighting vehicles for the government. It pushes the limits on robotics and concluded a space plane project with Airbus, yet a lot of its income comes from consultancy and prototyping work that won't have stratospheric returns in the short-term.
"We created the company because we like to design and engineer things," Michael Leong, co-founder and general manager of Hope Technik, tells Tech in Asia. "We started offering services to help clients design and engineer products and solve problems. We wanted to be the best engineers in town."
Hope Technik has more up its sleeves. It's prototyping an exoskeleton (no photos allowed) that could have military, logistical, and healthcare uses. It could lift heavy objects and teach stroke patients how to walk again. The company has also sold a few dozen Alert devices that detect falls in a home and notifies a loved one – useful for elderly folks living alone.
The company is also betting massively on swarm artificial intelligence. Leong says that drones have a constraint: they're conceived to replace a single person's dull, dirty, and dangerous job. Instead, drones should create "force multiplication", in which an attribute can multiply the effectiveness of a military force.
"With swarm intelligence, I only need to focus on my end-goals. Instead of being a middle manager of drones, I let the computer do it for me," says Leong.
This could be useful in surveillance as well as search and rescue, as a group of drones can figure out among themselves which one needs to return to base, which ones need refueling, and so on.
The climatic battle of Iron Man 3 – a favorite movie within the company – explores this concept when Tony Stark called upon all his Iron Man suits to do battle against the enemy.
The rich industrialist trope features prominently in Hope Technik: Batman movie posters hang on its walls. So it's unsurprising the company is chasing the space frontier and taking a page from Elon Musk.
The anti-startup
The company wasn't yet shooting for the moon when it started in 2006. Leong and his fellow founders had a mad love for cars, and Leong was a race car engineer before founding Hope Technik. They initially did motorsports engineering, but demand for robotics work picked up and took the company in that direction.
Hope Technik's growth defies Silicon Valley-influenced conventions. Instead of scaling rapidly from day one, it's a consultancy firm that serves mostly Singapore-based customers – and the government's a major client. Because it does client work, it had no need to raise money from investors as revenue came in pretty quickly.
Its lack of a singular focus is a contrast against single-product startups – think Facebook or Twitter – that are all the rage right now.
Hope Technik's devotion to engineering is absolute, says Leong. It's set to make US$8 to 10 million in annual revenue, and it's now profitable. The company can't reveal exact figures, but Leong says that it has always plowed profits back into engineering, be it 3D printers, test equipment, or university scholarships in which students need to work for Hope Technik upon graduation.
Now, the company wants to turn its devotion into a hundred million dollars within three years. Its trump card is Sesto, a set of technologies that ease the act of moving heavy objects in confined spaces.
After being placed under an object, say a hospital bed or a trolley, Sesto lessens the force needed to pull and push the object. In other words, a 200kg object would feel like 2kg, which is a hundred-fold reduction. It can move objects with a motor either programmically or using a remote control. The system is omni-directional, which means it can make sharp turns – ideal for maneuvering in narrow aisles within a hospital or warehouse.
With this technology, it plans to tackle the logistics and hospital sector, targeting Singapore, Germany, Korea, and Australia. It has secured distributors to do sales and maintenance for its products.

Patriotic tinkerers
Hope Technik is a microcosm of Silicon Valley, an engineer's haven which celebrates solving global problems using technology. The tinkering spirit is strong in the company: it even invested time to build a testing oven out of a cargo container. The end product costs one-tenth of a commercial one.
Yet it's distinctly Singaporean. "This is home for us," says Leong. "The world outside is attractive. But Singapore is too. Our roots are here. Our families and girlfriends are here."
It's not just talk. Aside from the army references, Hope Technik is a wellspring of engineering expertise for Singapore's research institutions, large corporations, and government. It's even working with Singapore's startups, building robots for drone SaaS firm Garuda Robotics, developing an automatic warehouse retrieval system with RedMart, and collaborating on a prototype with Airgo, which is reimagining airline seats.
Hope Technik will make all its products in Singapore, right inside the company's sprawling home base. In fact, it already does small volume manufacturing there, though it wants increase capacity to 10,000 units a year. It will fundraise to support the expansion.
Leong dismisses concerns that dabbling in so many research areas dilutes its focus. The company balances between problems it knows it can solve and problems that have large enough scale to be interesting. In any case, most fields of engineering have the same foundation.
"It's about first principles like gravity. The configuration is the same. We took the first principles and apply it across a broad range of applications."
But that does not necessarily make their work easier, especially for the type of engineering the company seeks to do.
"Our downfall is that we are not good at selling ourselves. But we take pride in pushing the boundaries for our customers. That's our trademark," he says.
"Innovation is painful… but we strive to make it happen, even if it means late nights, things breaking down, and tempers flaring. Sometimes we question ourselves, but the reward comes in seeing the light at the end."
See: This Singapore startup wants to remove killer litter from space