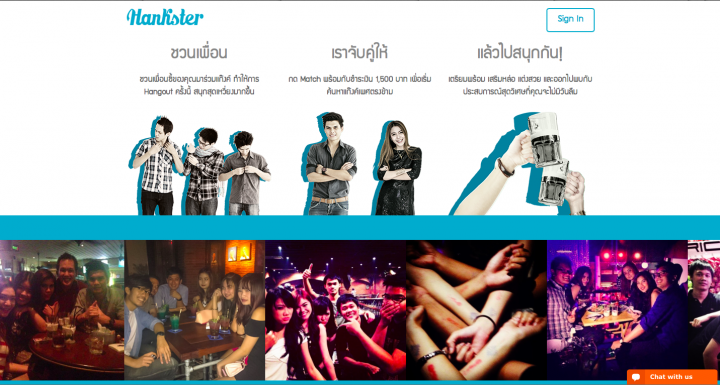 It might be a stereotype to say that Asians are more shy than Westerners. I know some Asians that are very outspoken, but it's safe to assume that our cultures are more conservative. In addition, a study by a Harvard University student states that, in general, Asian Americans use a less open communication style than their European and American counterparts. This "shyness" affects how Asians meet new people and network.
Many dating apps are now available in Southeast Asia such as Paktor, Noonswoon, and Love Out Loud. But these apps are for chatting. People tend to be chatty when there's a screen in between. What about real life? Being scared of a first date is real. Therefore, a startup from Thailand was created to solve the issue of social awkwardness.
HanksterClub is a dating service that helps users meet new people, but in the much-less-intimidating setting of a group date. Basically, it's like an online group hangout-matching service. A meetup is set up between two groups; each consists of two or three members of the same sex.
(See: China's top flirting app reportedly prepping US IPO as value rises to $2 billion) 
The first person in a group who registers can invite a few friends of the same sexual orientation to join his or her group. Before matching, each group member answers questions regarding their personality and taste, such as nightlife preferences and what kind of food they like. HanksterClub will use these questions to match them with other groups with similar lifestyles and interests.
Users need Facebook accounts to log in and confirm they are real before being matched with others. HanksterClub is now only available via its website, but the startup aims to launch a native mobile app soon.
Users pay 500 Baht (US$15) per person per match. This fee includes the matchmaking service, a restaurant reservation, and welcome drinks.
HanksterClub launched in March and now has more than 200 registered members. It has matched more than 50 requests in the past two months.
The startup was founded by a group of King Mongkut's University of Technology Thonburi students and is one of the five shortlisted teams of True Incube batch two.