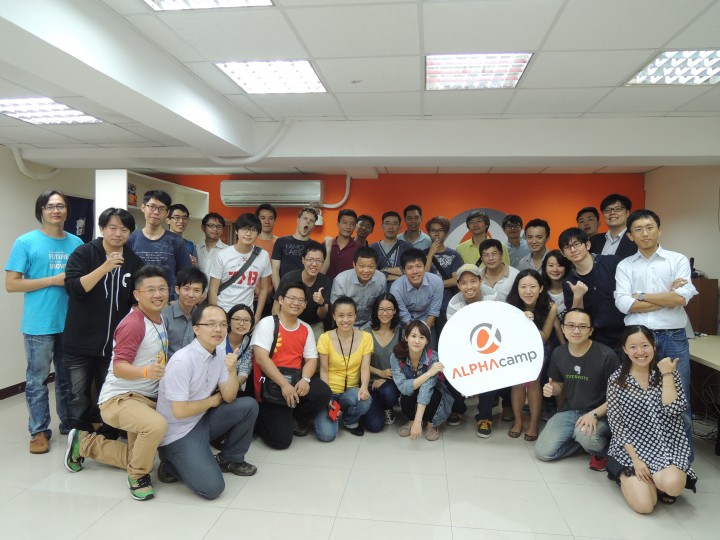 When the startup crowd talks about a "startup ecosystem," what do they really mean? Obviously, any city with a booming startup ecosystem presumably has plenty of startups. Hopefully, there are also a few wealthy investors in the neighborhood with funding to support these startups. Maybe there are a few accelerator programs that provide workspace, seminars, and free coffee. There's also usually a few choice hangout spots for developers to get geeky with one another. Finally, there are the educators – people and programs that serve the startup community by providing know-how and networks that ultimately connect people to all of those other institutions.
Alpha Camp fits into the latter category. The latest startup school to edge its way into Taiwan's small but tight-knit startup community, it graduated its second batch of students last weekend and is currently recruiting for the third.
Launched officially in February 2014, Alpha Camp targets young professionals looking for career changes. The 10-week bootcamp aims to help students build companies of their own, or join one of Taiwan's leading mobile internet startups. The curriculum is split into four tracks – business development, marketing, mobile development, and web design. Teachers who devote their time to classes hail from big-name local players like EZTable and TMI, along with Taiwan-based representatives from Google and Yahoo.
"Generally, we target two groups of people – people who are ready to switch careers, and people who are ready to start their own companies." says Bernard Chan, Alpha Camp's founder. "The curriculum also comes from the industry itself. The CEO of EZTable helped us design our iOS app program, and KKBox's CTO helped us design our web program."
There are many other organizations in Taipei that serve the local startup community through classes and seminars. Garage+ and the Startup Leadership Program have both been active for years, and the Entrepreneurs Society of Taiwan holds regular meetups in English and Chinese with local and international founders. Every single one of these organization fits firmly into the "education" category within the so-called Taiwan's startup ecosystem. But Chan believes that Alpha Camp can add value to the scene by holding strict standards for acceptance and making sure students are committed, full-time learners. Chan claims he received 250 applications for the school's first batch; 20 students ultimately joined.
"We focus on individuals, and we offer a structured curriculum, with milestones and homework, and with a focus on particular skills," says Chan. "We look for people that are ready to change and that really want to do something about it. So that's what the application interview is about," he adds.
See: The cat facial recognition startup is real, and they're totally serious about reading cat faces
Given that Alpha Camp works solely with Taiwanese students and founders, Chan's enthusiasm for the island might seem unusual given that his ties to Taiwan are incidental, not genealogical. After leaving his home in Hong Kong to attend the University of Waterloo, Chan completed an MBA at MIT and went on to work at Bain. He later moved over to Yahoo Asia, where he worked closely with the Taiwan team from his base in Hong Kong. "I just happen to know the Taiwan tech scene well through personal networks at Yahoo, along with my wife's networks," says Chan.
Alpha Camp is both a business venture and a labor of love for Chan – he founded the bootcamp in part due to his affinity for school. After a short-lived China-facing fashion startup failed, Chan attended a Ruby on Rails camp in Chicago, where he realized his appreciation for education as he brushed up on his coding.
"I really enjoy the environment of a school – a place where people come and learn, and share knowledge. More importantly, [it's] the chance to build an opportunity. In my camp, I saw nurses and teachers that wanted to become developers. School is a platform. So I decided that would be my business."
Alpha Camp's Taiwan connection extends beyond networks, however. Chan's a believer in Taiwan's potential for fostering world class startups, citing the island's legacy in product-oriented technology as a cause for optimism amidst a flagging domestic economy.
"Taiwan has huge potential, especially when it comes to talent. People here are product-minded. Singapore and Hong Kong, for example, are still very much financial hubs," says Chan.
"Taiwanese talent has a long history of building technical products. But the skill set and the mindset are still tied to the OEM and ODM model. At the same time, You can see there's a wave of really good up and coming Taiwanese startups. Gogolook has sold, and EZTable and KKBox have been successful. These companies provide really good hiring platforms. At the same time, there's a lot of people that aren't happy where they are, so I feel like this is a place where I can make a difference."
See: 10 great co-working spaces in Taiwan