Australia-headquartered Media Monitors has just acquired a majority stake in Singapore-headquartered Brandtology. Media Monitors provides over corporate, government and non-for-profit organisations customised access to media intelligence services and innovative tools to enable effective communications
Media Monitors CEO John Croll said, "This is Media Monitors first acquisition since being acquired by Quadrant on 1 July 2010 and it reaffirms our growth strategy. This will create significant opportunities for cross-selling across all markets, and Brandtology's strong presence in China in particular supports our strategic growth story in that market. As a group we now have over 1,000 employees servicing 5,000 clients across 17 countries globally."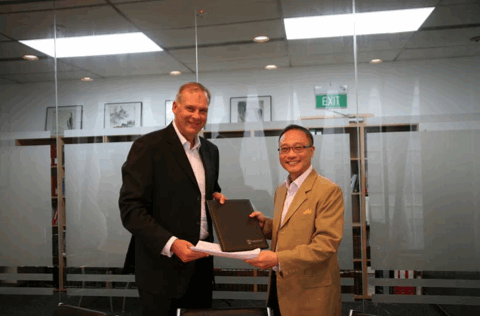 Media Monitors CEO John Croll and Brandtology CEO Eddie Chau exchange signed contract.
Co-Founder and Business Development Director of Brandtology, Kelly Choo says that this is the "logical and exciting next step for Brandtology", allowing them to continue their rapid growth across existing and new markets and maintain their focus on research and development backed by the Media Monitors sales force.
Brandtology will remain as a distinct brand within the Media Monitors Group, with the acquisition significantly expanding the brand's sales network in Australia and New Zealand, while providing a solid base allowing for continued rapid growth across the Asia?Pacific region.