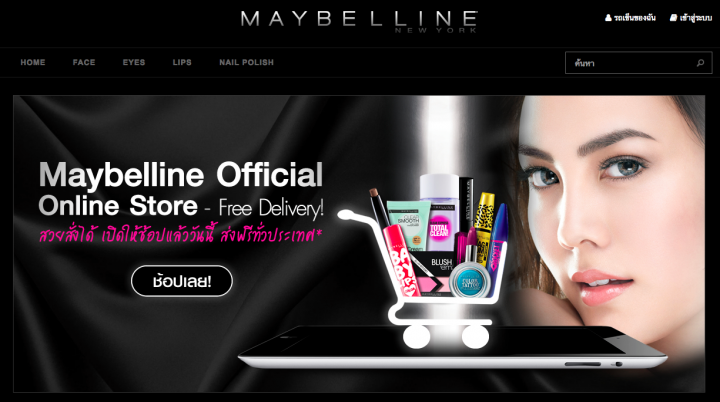 2013 was a year of strong e-commerce growth in Thailand. That includes all types of social commerce such as on mobile, Facebook, and even Instagram.
Now the make-up brand Maybelline – one of the many labels run by L'Oréal (EPA:OR) – has decided to take the plunge into e-commerce in Thailand. The cosmetics company did not have an online store in the country before, making do with just an online catalog where customers could browse items but couldn't purchase on a computer or phone. Now it has a brand-new full e-store for Thailand's shoppers at shop.maybelline.co.th.
New frontier for luxury e-commerce
Maybelline has partnered up with aCommerce, an Asian startup that's an end-to-end e-commerce service provider, to make this happen. In addition, aCommerce will manage the full inventory of cosmetics, do all the packing and delivery throughout the country, while optionally offering COD (cash and credit card on delivery) to Maybelline customers who don't fancy paying online.
This is yet another big step for the e-commerce startup, which recently got $3.1 million in funding. aCommerce operates Line's online flash sales in Thailand and runs the back-ends of other e-stores such as WearYouWant.
Maybelline experimented with e-commerce in Thailand late last year when it tested out a flash sale via popular mobile messaging app Line.
(Editing by Steven Millward)