MapmyIndia has been coming out with smart GPS-based devices of late. The India-based navigation services company recently launched Smart Mirror, a device that fits in place of your car's rear-view mirror. A lot smarter than just a mirror, it acts as a screen for a camera on the rear of your car when you're reversing. The rest of the time, this device does the job of a GPS-powered navigation assistant.
Now, the company has announced a partnership with Japanese in-car entertainment systems company Pioneer, which is also a result of out-of-the-box thinking. MapmyIndia's navigation system will piggy-back on the latest product manufactured by Pioneer called AVIC-F60BT. This makes the entertainment system double up as a navigation assistant whenever needed, making use of the extensive MapmyIndia database.
The hybrid system comes pre-loaded with a custom UI, which according to MapmyIndia, allows users of the system to switch between entertainment and navigation modes.
See: New gadget from MapMyIndia puts your in-car navigation on the rear-view mirror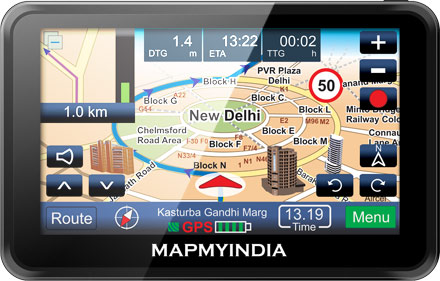 A week ago, the company had launched a navigation-centric Android tablet, called the MapmyIndia Buzz, for INR17,990 (US$294).
From location-based information like weather, news, speed alerts, ATMs, and restaurants in the area to an SOS feature, the device comes comes pre-loaded with apps that can be customized according to your preferences.
With a claim of having more than 10.54 million destinations and over 2 million kilometers worth of Indian roads in its database, MapmyIndia makes a strong case against some intense (and free) competition coming in from global behemoth Google Maps.