Japanese culture is finally getting a foothold in the Korean-made side-scrolling multiplayer online RPG MapleSEA. The game's new Sengoku Era patch debuted yesterday with two new heroes – Hayato and Kanna – and tons of new quests and maps.
Its story brings players back to ancient Japan, where a Demon King has taken over the land. Of course, not all hope is lost; five highly skilled warriors, the Children of Five Stars, are expected to come forth and save the world. Hayato and Kanna are part of this group.
Initially launched as content exclusive to Japan's MapleStory, the patch will launch for MapleSEA in two parts. The first, which is already live, introduces Hayato as a playable character. A samurai warrior, he fights with a Katana and a Wakizashi in a specific style known as Battoujutsu, which involves the rapid drawing and sheathing of a sword. He also looks adorable (in a tough way!).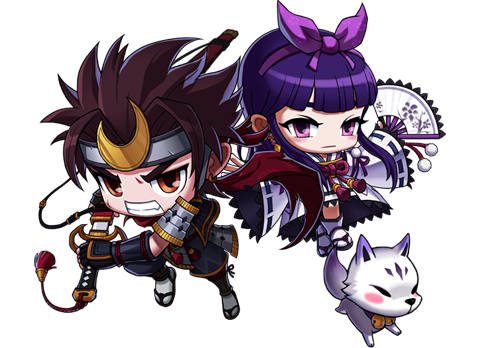 The second part of the patch, which includes Kanna, will debut on December 4. Kanna is a magician who uses a fan, and who fights alongside her pet white fox, Haku. However lots of new content is already available with the first half of the patch. Players can explore Hayato and Kanna's hometown, check out the new towns in Mushroom Shrine, and help to fight off the Demon King Nobunaga. Detailed information on the patch can be found at the MapleSEA site.
As usual, there will be events to celebrate the new patch. No specific details have been given on these, but players can expect to be able to earn limited in-game items, participate in the Sengoku Hunt, and even win cash and a (real life) trip to Japan! Of course, your best bet for keeping up with the news is the MapleSEA Facebook page (or just bookmarking Games in Asia!).