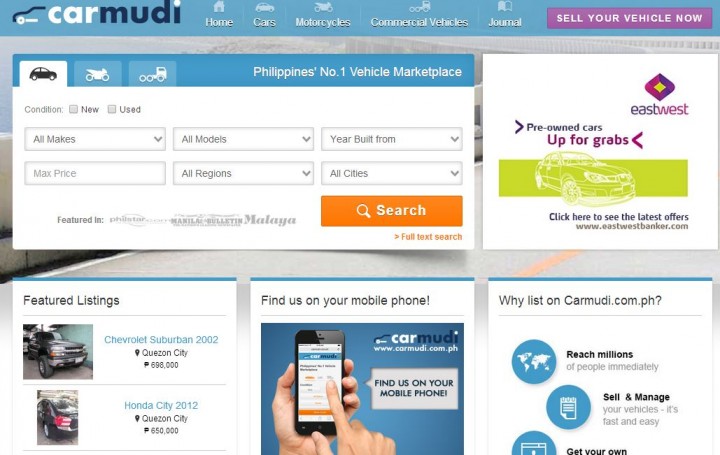 Seeing a huge opportunity in Asia, Rocket Internet's car classifieds Carmudi alloted its recent US$10 million funding round for its Asian expansion. Likewise, in the Philippines, Carmudi is continuously ramping up its operations after launching first in Metro Manila. It now has over 7,000 listings on its site within three months and is set to expand in other cities in the country.
For Carmudi Philippines country manager Nicolas Boldt, the car industry in the Philippines represents a huge opportunity where car sales are constantly going up, increasing 16.5 percent year-on-year.
The value-add
Offering its service to both car dealers and private car owners who want to sell their vehicles online. Boldt says it barely did any marketing and the quick growth came about via word of mouth and social media shares by its users.
The team tries to maintain healthy relationships with various car dealers in the capital. Personnel are sent to visit the dealers on a regular basis, personally capturing photos of the cars for sale and helping them write descriptions of the vehicles. Boldt says:
On the B2B side, personal relationships is valued very highly. We teach them how to design their listings. It's also healthy for the buyer to know that we have also seen the car.
Carmudi aims to be the one-stop shop for car buyers, offering editorial content and tutorials about cars. For the sellers, it offers weekly data that provides an overview of which car models are most searched and those that have sold the most.
(See: Vehicle marketplace PhilMotors brings around 350 Philippine car dealers online)
Speeding up growth
The Rocket Internet venture now has around 30 employees in the Philippines managing customer support and expansion. After getting a grip on Manila, it's now set to expand to Batangas, Davao and Cebu.
To date, a huge chunk of the sellers on Carmudi Philippines' platform are car dealers. But Boldt says that private sellers are growing at a faster clop. Between March to April, it saw more than 100 percent month-on-month growth in private sellers.
Boldt says that the successes of other Rocket Internet ventures in the Philippines will be copied by Carmudi:
When we came here people didn't know what Carmudi means. But likewise, Lazada or Zalora didn't mean anything before. Now, Lazada means electronics online and Zalora means fashion online. Our goal is to make Carmudi known with selling cars online.
Apart from Carmudi, other players in car classifieds in the Philippines include PhilMotors and Top Gear.